Elegant is one of those wonderful words that is actually so fluid when it comes to describing weddings. Why? Because elegant is all in the intention, not necessarily in the execution. Pure elegance in a wedding is all about how a bride carries herself on her big day, which means that any couple on any budget can host an exquisite wedding. When you evoke the air of elegance, the whole room can feel it.

Today's real wedding is full of natural elegance - so much so that we featured Real Bride Caroline on the cover of our Fall edition of Confetti wedding magazine! Photographed by Paul McGrath of PMG Image, Caroline and Scott hosted their families and their friends at "the Castle" in the mountains, Rocky Mountain wedding venue Banff Springs Hotel. Planned and designed by Banff wedding planner Lynn Fletcher Weddings, there is an incredible air of warmth and beauty. They choose golds, ivories, and touches of blush for their wedding decor and with beautiful accents like wedding centre pieces from Occasional Bloom, and a stunning three-tier cake from SWIRL Custom Cakes and Desserts, the day was pure perfection!

Caroline's gown is beyond breathtaking, a halter top sheath dress with a keyhole detailing, and impeccable embellishment on the collar. It's refined and sexy, and with her elegant hairdo, Caroline makes for an amazing Rocky Mountain bride. Caroline's bridesmaids wore bold red gowns, which made them pop against the natural beauty of Banff. Real Groom Scott wore a classic formal tuxedo, matching Caroline's natural grace and splendor. Hear more from the photographer and meet the entire Creative Team after the jump!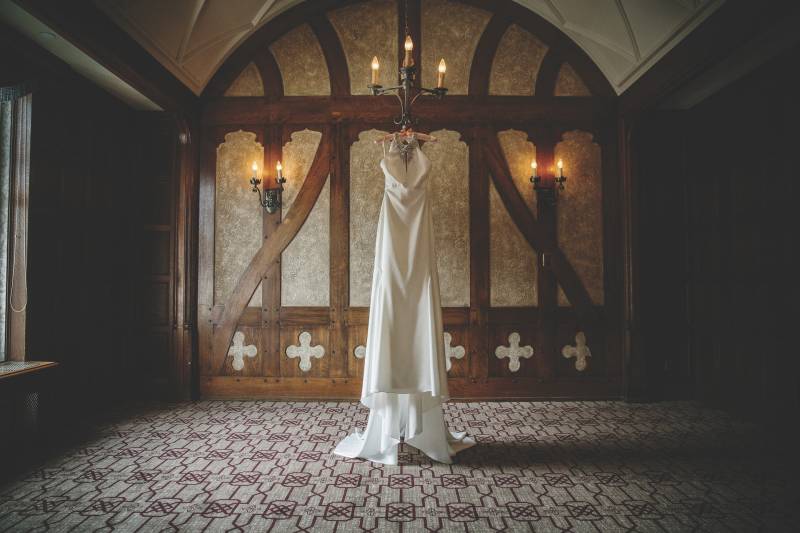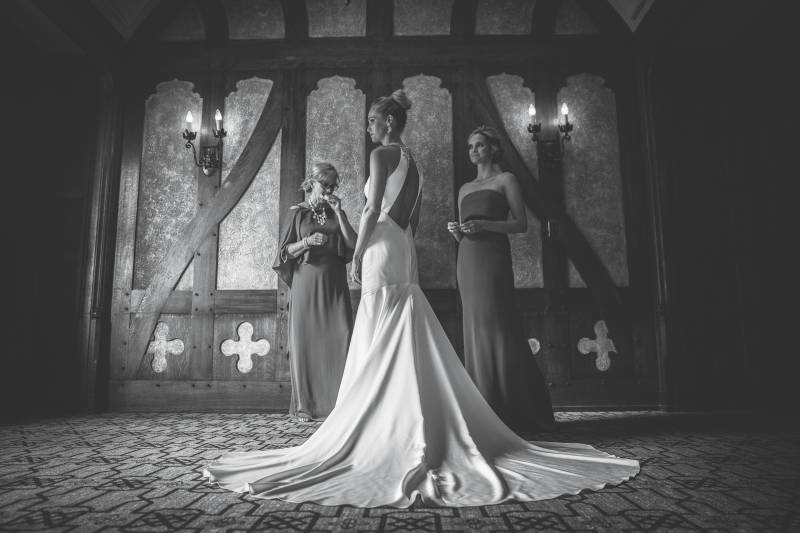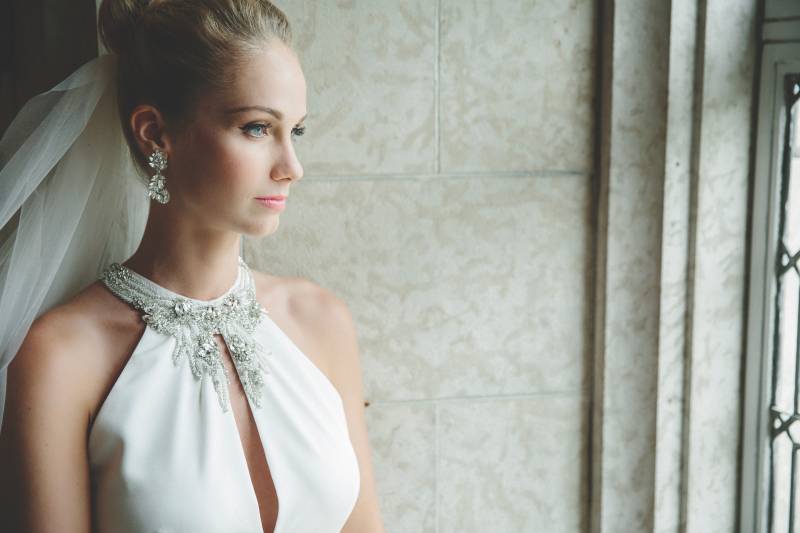 From the photographer:
"There are truly no words to describe Caroline and Scott's exquisite wedding at "the Castle". These two are as stunning on the inside as they are on the outside! One of my favourite things about weddings is watching family and friends stepping up in every way for the bride and groom… Caroline and Scott's wedding was no exception… from the first moments at the beginning of the day until the very last moments that night, they were surrounded by an incredible amount of love from their families and friends!"