Snuggled in between Cranbrook and Inveremere is one of the sweetest little villages in the Rocky Mountain. Sitting on the Columbia River, it's quaint and warm village vibe make it an ideal hideaway for intimate weddings.

Hailing all the way from England, Catriona's family travelled across the pond to celebrate her wedding to Connor. This sweet couple met by chance, after a flight booked by mistake landed them both in the same hotel in Morroco. After proposing backstage at the Sasquatch Music Festival, these two planned a warm and lush winter wedding in Canal Flats, photographed by Portraits by Lucy.

We adore Catriona's pastel pink locks, flowing in loose curls. Her wedding gown has a sweet keyhole in the back, with lace detailing for added effect. Her bridesmaids look luxurious in long, flowing emerald bridesmaids gowns. And while these sartorial choices sound traditional, Catriona and her bridesmaids added their own flare with leather jackets, a fantastic rose gold leather jacket for Catriona and black for her bridesmaids. Lush bouquets with ferns and blooms complete the outfits, and we love everything about it!

Hear more from the photographer and meet the entire Creative Team after the jump!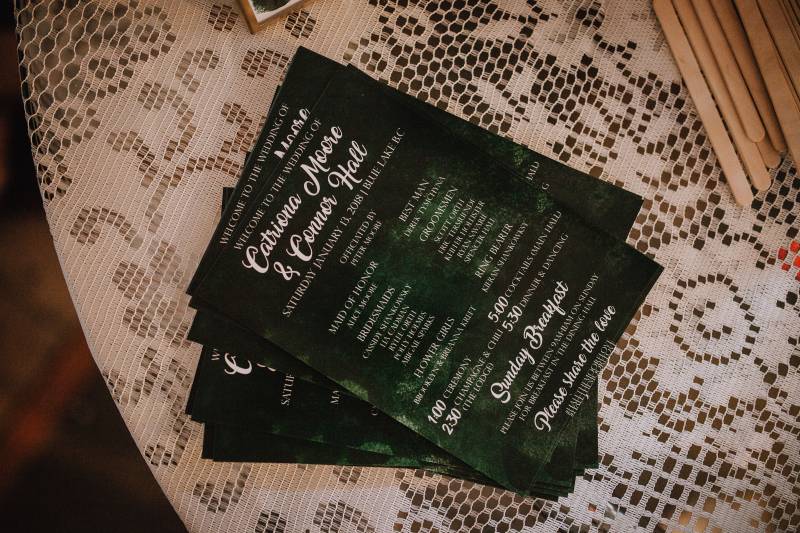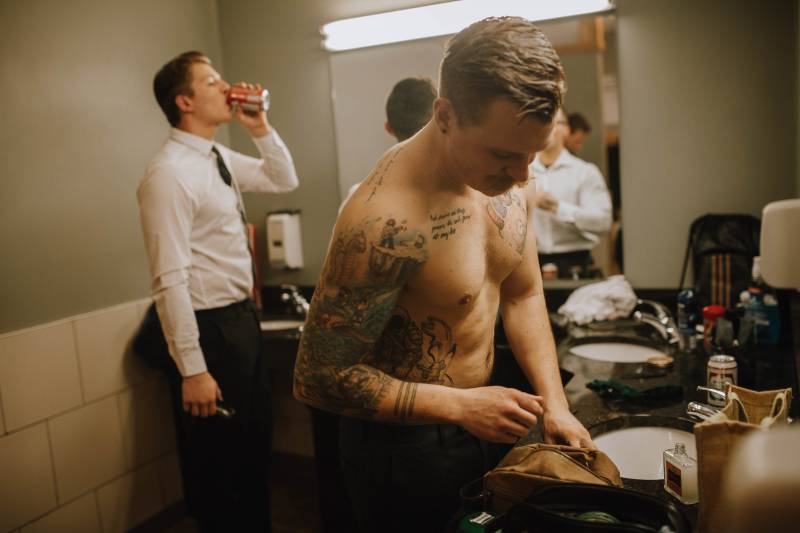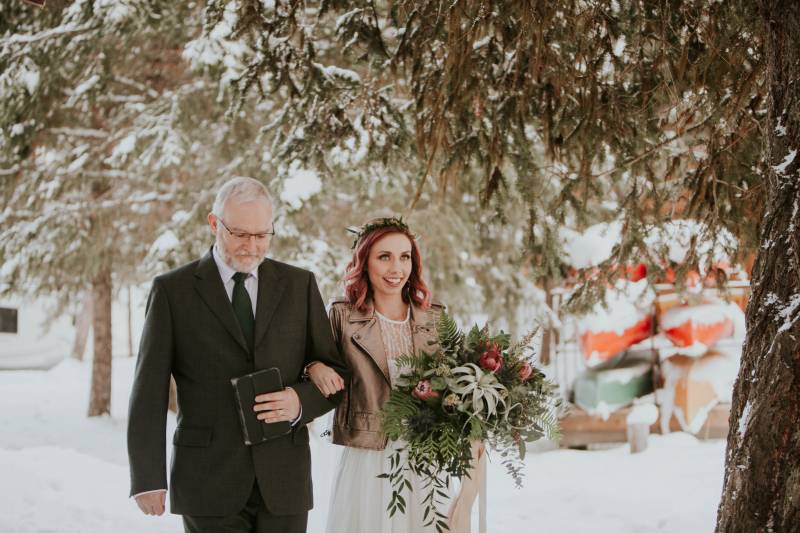 From the photographer:
A girl from Dorset England meets a Kootenay boy while in Morocco. A happy accident landed Connor in Morocco after accidentally booking a flight meant to take him to "Monaco". After meeting in a hostel, Catriona describes it as a "I think my life just changed" kind of moment. After keeping in contact for the year following, Connor decided to visit England and shortly after Catriona followed her heart to her Canadian boy and moved to Cranbrook BC. In May 2016 Connor proposed to Catriona back stage at a Sasquatch Music Festival and of course, the rest is history. The wedding took place on a snowy Winter afternoon at the beautiful Blue Lake Camp where they had an outdoor ceremony and cozy reception inside one of the cabins in the grounds have to offer.