A classic rustic wedding filled with purple details, Natasha and Keagan's wedding is the definition of a sweet and romantic wedding day! Photographed by Raelene Schulmeister Photography, there were plenty of sparkles, plenty of laughs and an abundance of kisses that made this Calgary wedding day so extra special. We absolutely adore Natasha's wedding dress, a classic silhouette with fun and whimsy. Hear more about this couple's beautiful love story and meet the entire Creative Team after the jump!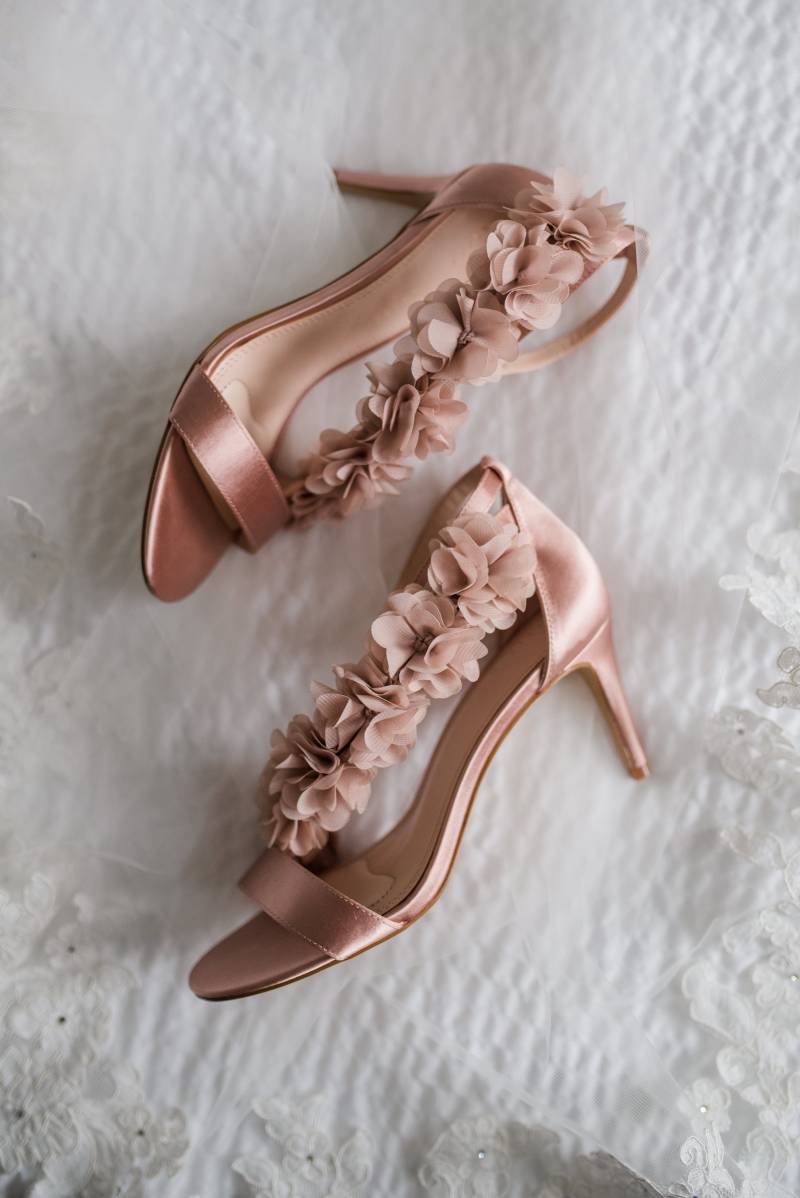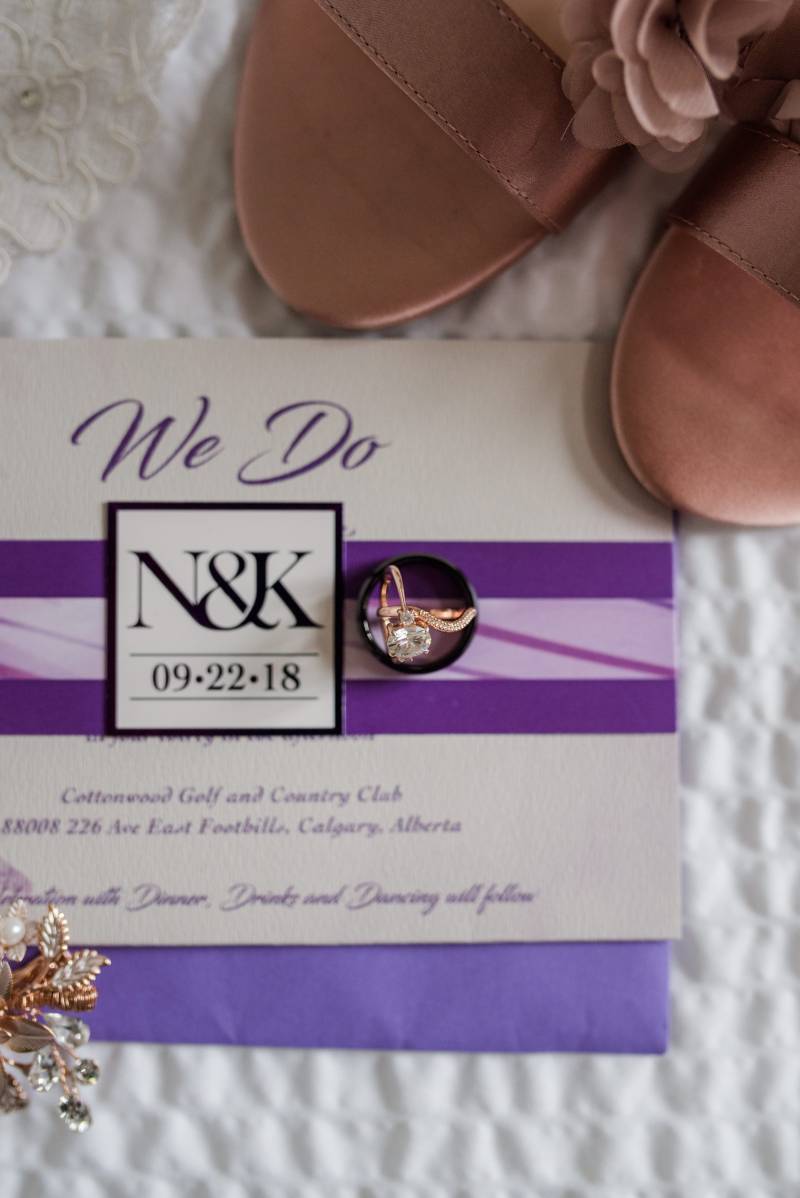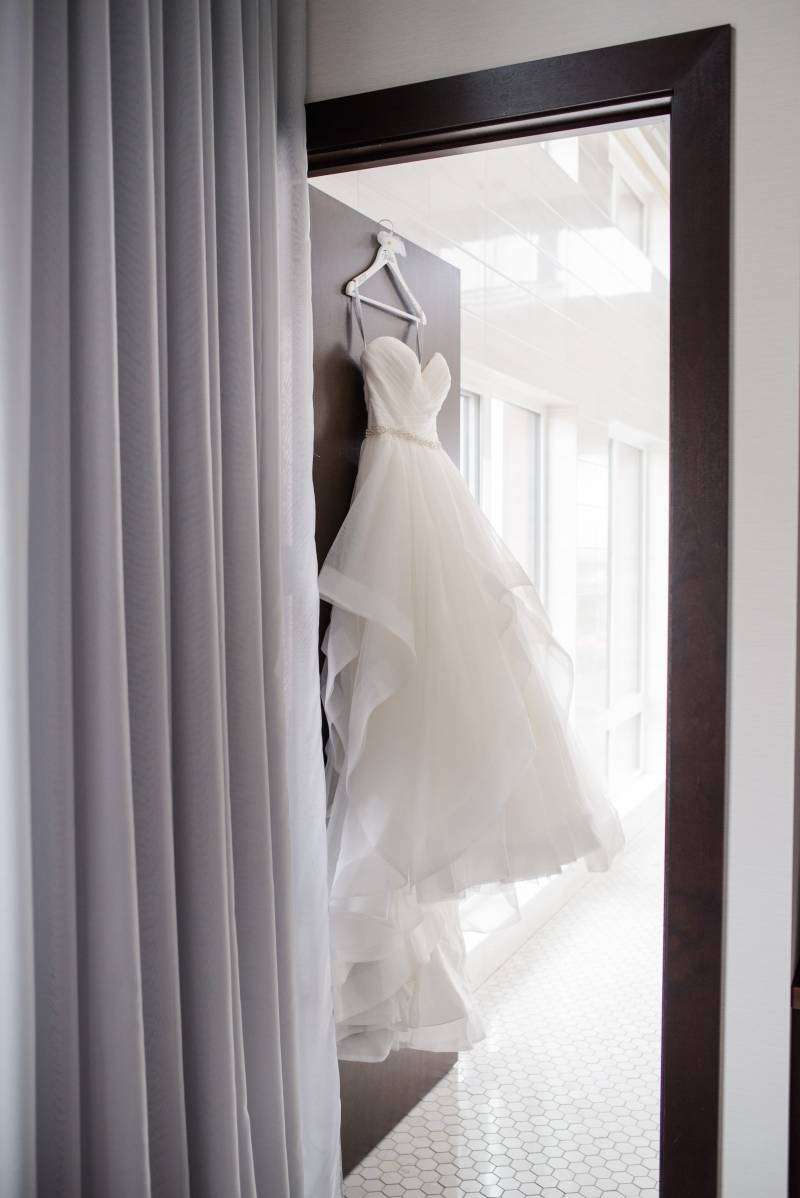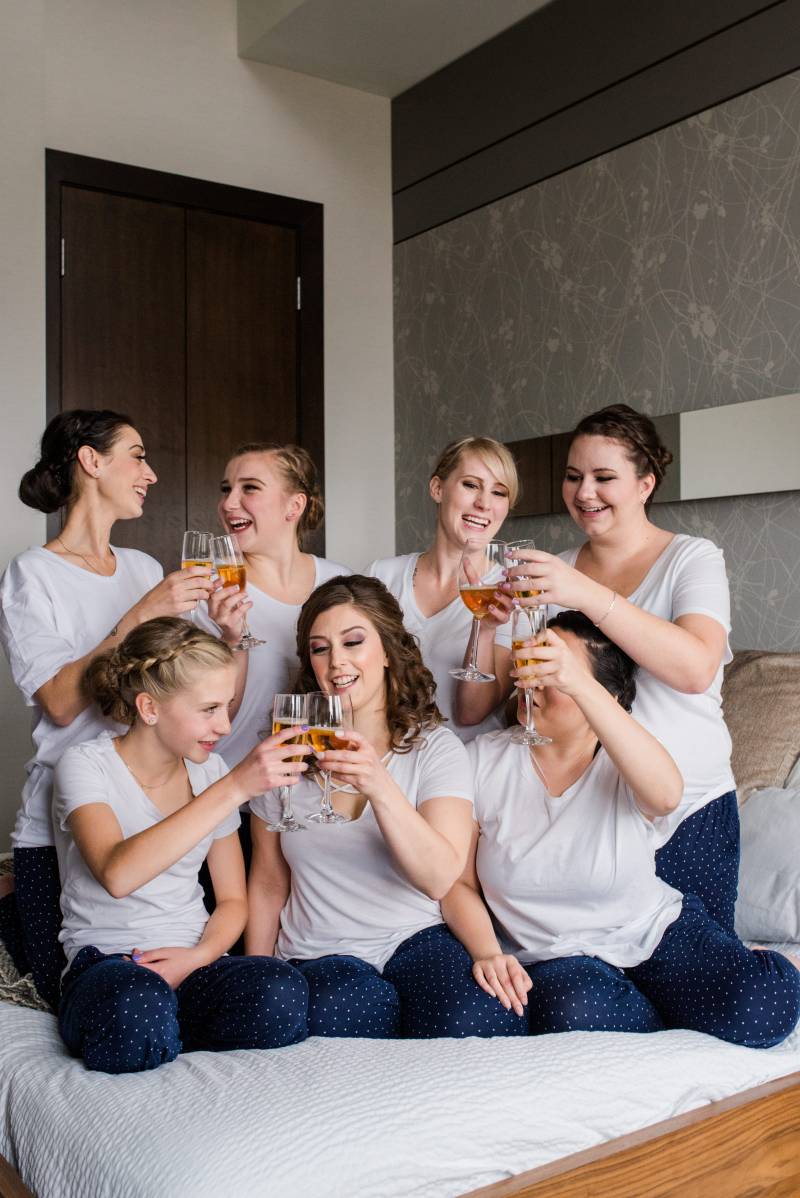 Tasha and Keagan's Cottonwood Golf Club wedding just outside of Calgary was such a celebration!
TELL US HOW YOU MET!
Keagan and Natasha met at SAIT while they were both attending college. Keagan was taking Nuclear Medicine, while Natasha was taking Baking and Pastry Arts. Keagan's best man, Thijs was also taking Baking and Pastry Arts at the time and would later introduce Keagan and Natasha. With excitement of being in college and moving on to bigger and better things some people from the Baking and Pastry Arts program decided to go out for a fun night on a party bus! Natasha had a few friends going and Thijs invited Keagan. They all were to meet up at Morgan's Pub on 17th Avenue to start the evening. This is where they first met, Natasha was immediately attracted to Keagan's charming features and had no problem initiating conversation to try to get to know him more. Following the party night, Natasha and Keagan exchanged phone numbers and started hanging out regularly. Natasha would make Keagan and Thijs dinner, watch Jersey Shore on Thursday nights and they would spend time getting to know each other more. After one month of going to dinner and seeing movies, Natasha finally asked Keagan - "So are we dating or what is this?" Keagan answered with "Yeah, we could date". Fast forward seven years and now they are married! <3
I WANNA KNOW YOUR PROPOSAL DETAILS! WHO DID THE ASKING AND HOW!?
Keagan proposed to Natasha in Seattle in Spring 2017. They were in Seattle celebrating Natasha's 25th birthday and wanted to take a trip, but still stay closer to home. They spent a lot of the trip sightseeing and on the second day went to the Chihuly Garden and Glass - which is a blown glass museum showcasing Dale Chihuly's work. As they they were walking around admiring the art pieces Keagan asked Natasha "Should we get a photo in front of this one" Natasha reluctantly said well we just took one, do we really need another? Keagan insisted and told Natasha to put down her bags. As Natasha was slightly turned around Keagan slightly fumbled as he struggled to get the ring box out of jeans pocket. He got down on one knee and asked Natasha to marry him! Natasha was absolutely thrilled and said YES OF COURSE! but also a little bit in shock! There were strangers huddled around them, staring and clapping. The newly engaged couple then continued through the museum and found a spot to call family and friends to share the exciting news!
THIS ONE'S FOR THE BRIDE: WHICH MOMENT STANDS OUT AS THE BEST FROM YOUR WEDDING DAY?
There was so many amazing parts of our wedding day, it's tough to choose a favorite! I loved the whole day. From the moment I woke up I was so excited that the day was finally here that I would become Mrs. Donahue. If I had to choose, I would say the best part of the wedding day was our Ceremony. It felt so perfect - from my dad and step dad walking me down the aisle to our handfasting ceremony lead by our best man and our exchange of vows, I pretty much cried the whole time! It was so wonderful and better then I could have ever imagined.
NOW THE GROOM'S TURN: TELL US WHAT YOU THOUGHT WHEN YOU SAW YOUR BRIDE FOR THE FIRST TIME ON YOUR WEDDING DAY!
Keagan: Holy Moly!
Natasha: That's it?! We should probably write more then just that!
CAN YOU SHARE ANY TIPS ABOUT PLANNING A WEDDING TO FUTURE COUPLES GETTING MARRIED?
My advice to future couples getting married would be to give your self extra time before the ceremony - when you create your timeline, add an extra hour or two! Things come up that you might not expect and having extra time will save you a lot of stress. My second piece of advice would be to try to stay relaxed and take it all in! Your day will go by SO SO fast, and even if a few things do not go as planned it will only be you who notices. Try to stay calm, you got this! <3