Who can resist a man in uniform? Not Real Bride Caitlin - that's for sure! She married the man of her dreams, Bruno, in a beautiful Rocky Mountain wedding ceremony at Island Lake Lodge, one of our favourite little getaways for weddings. Photographed by Kevan of 6:8 Photography, it was a match made in wedding heaven, as Caitlin and Bruno are both love nature and exploring the outdoors and Kevan is the perfect adventure photographer! Using the beauty of the surrounding landscape as the backdrop of their wedding, this outdoorsy couple choose a minimalist decor and design scheme, embracing the vivid colours of the Rocky Mountains, which shine in these images by 6:8 Photography. Caitlin and Bruno choose to do a first look in the forest, so they could share their own moment privately and then focus on celebrating with friends and family for the rest of the day. With Bruno dressed in his formal Royal Canadian Mounted Police uniform, these two met and took each others hands, and it was almost as though their loved was sealed right then and there. A beautiful reception with friends and family followed, and these two danced and laughed the night away. Meet the entire Creative Team and hear more from the couple after the jump!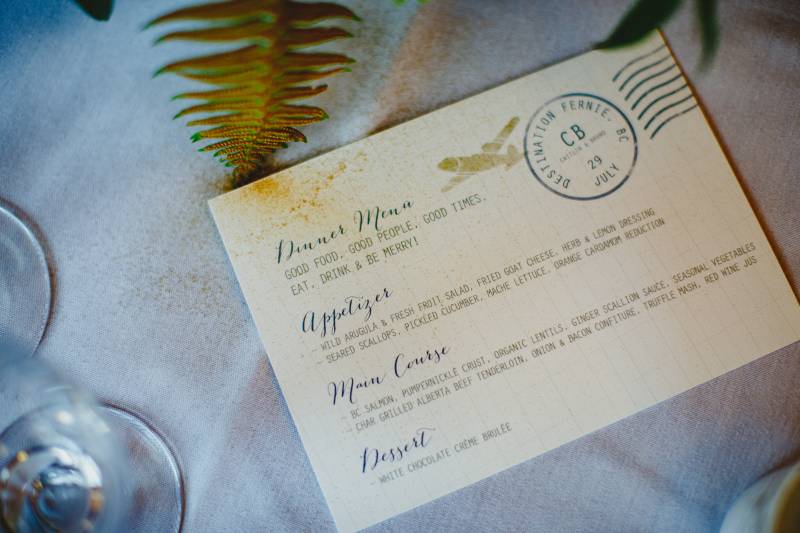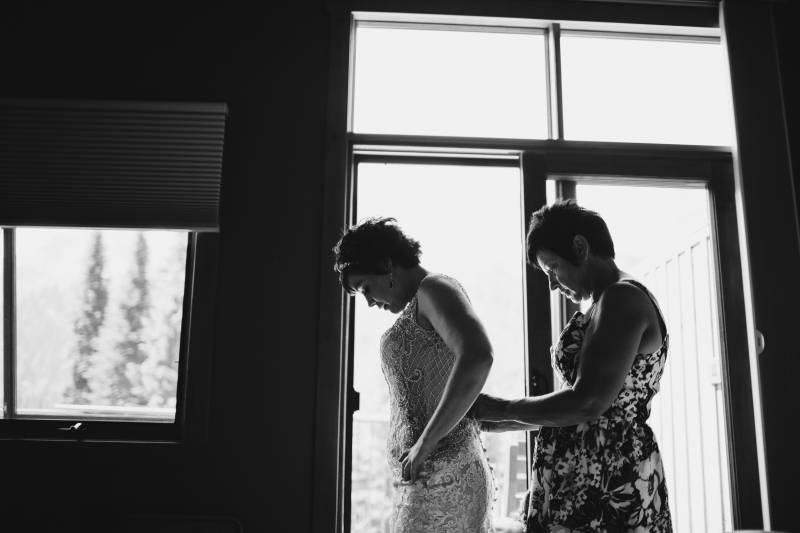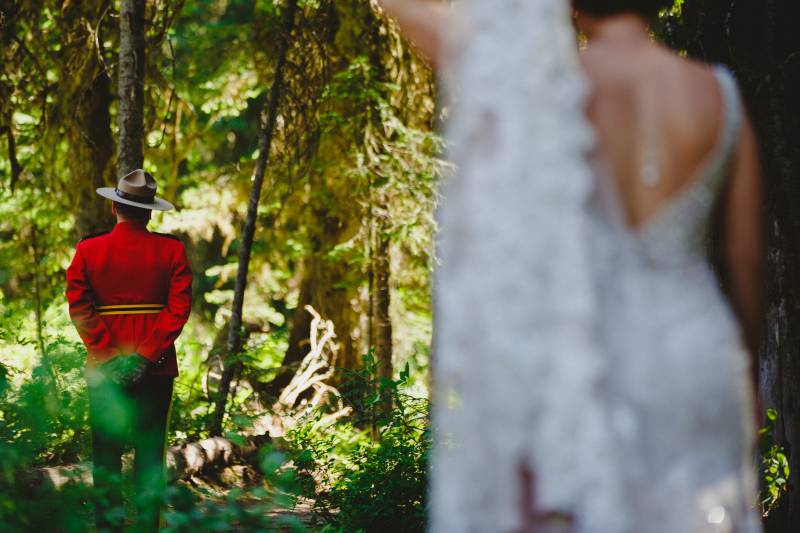 From the couple:
Our wedding took place at Island Lake Lodge in Fernie, BC. Making the most of the beautiful, outdoor mountain setting was very important to us. So, to kick off the morning of our wedding day we did an outdoor yoga session led by my cousin. After a hearty breakfast, I began to get ready for the day as our photography session began at 11:00 am. My husband and I decided not to have a wedding party as part of our wedding, so, helping me to get ready was my mom, grandma and my close cousin. At 11:00 am our photography session was in full swing as 6:8 Photography took pictures of myself and my husband getting ready. Another important aspect of our wedding day was to spend as much time having fun with our guests as possible. We decided to take our wedding pictures in the early afternoon before the ceremony in order to be able to celebrate with our guests post ceremony. Our first look pictures began at noon and then we went on a little adventure photography session through the trails and trees at Island Lake Lodge, capturing many beautiful outdoor photos. Our ceremony commenced at 3:00 pm where I was canoed in to the ceremony by my uncle and my brother; my dad was waiting on the shore for me to walk me down the aisle. We had an amazing, intimate ceremony at the I Dew Point with the gorgeous backdrop of the mountains and lake. After the ceremony, we began the celebrations with a bubbly service enjoyed on the outdoor patio overlooking the mountain range as we visited with our friends and family. Our relaxed, light-hearted reception dinner began at 6:30 pm and consisted of some shenanigans from our MC's followed by a few short speeches from our parents and friends. Half-way through out reception dinner, we snuck out for about half an hour to take some sunset photos down by the lake. Again, we went on a short adventure session, walking through the trees and going bare foot in the creek to capture some of our favourite shots of the day! The celebrations continued long into the night with our dance beginning around 9:30 pm and lasting until we shut down the bar!
My favourite moment of my wedding day was the first look between my husband and I. Both of us decided we would take our wedding pictures before the ceremony. Since we would be seeing each other prior to our ceremony, we really wanted to make our first look special and unique to us. We met at a quiet spot along the a trail in the trees and my husband, in his Red Serge and Stetson (he is a member of the RCMP), hand his back turned to my until I reached out and grabbed his hands. Seeing each other for the first time was such an intimate and grounding moment for both of us. We then read our vows to each other privately.