We've said it a million times - your guests will ooh and ahh over your dress and decor, but the element that will REALLY blow them away is your wedding menu. Taste is, after all, one of our finest senses and it requires a culinary team of expertise and talent to create a wedding menu that is trending, will please palettes of all sorts, and will stay within your wedding budget.
But unless you're a true foodie, picking your wedding menu can be a bit overwhelming. Sure, everyone likes chicken, right? The expert culinary team, led by Executive Chef Quinn Staple, at Hotel Arts is passionate about creating incredible food affairs that will make tongues wag with delight. So if you're not an expert when it comes to putting together a plated meal, all the more reason to visit Hotel Arts for a wedding consultation.
Just to get your palette watering, here are some of the trending wedding menus from Hotel Arts, curated by Calgary wedding specialist Brian Brownlee, and the food that he's sure Calgary couples will get passionate about!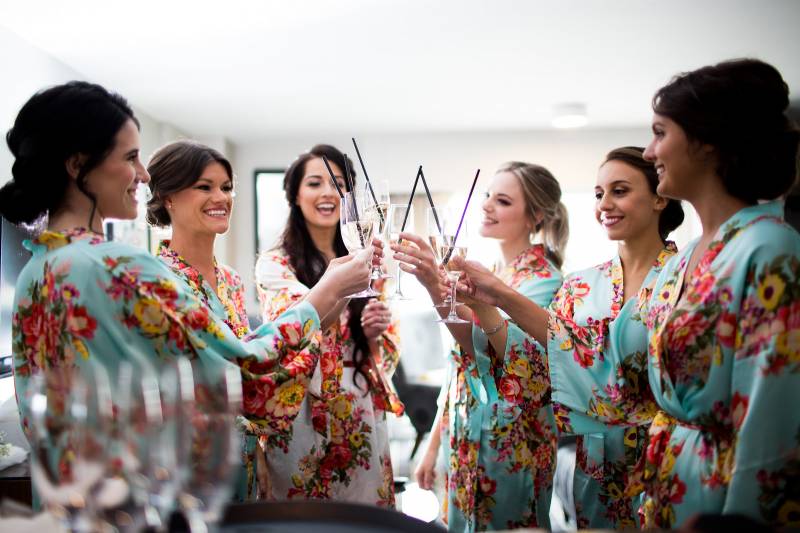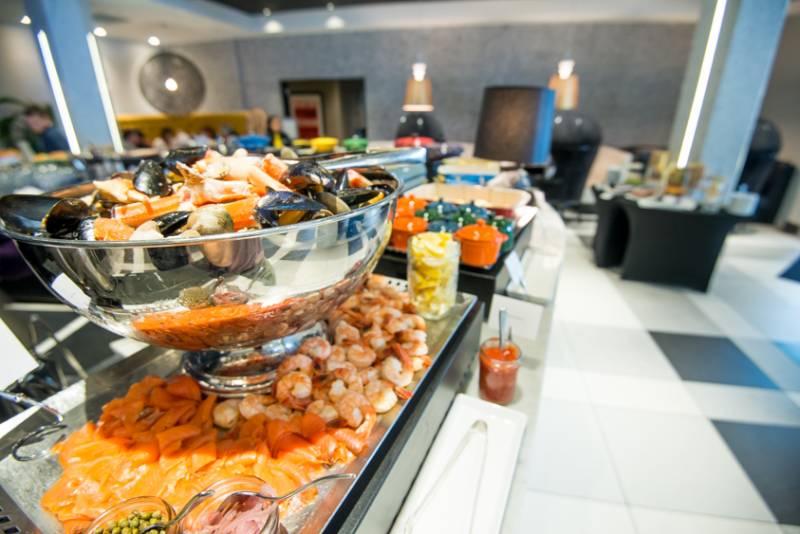 Wedding Menu Trends - Main Course
Let's start with the main act - Hotel Arts is all about the infusion of family style dinning and the ease of plated dinners. Combining the two makes it easy for your guests to share joy over shared plates, but not have to feel conspicuous about serving themselves certain portion sizes.
First Course: deconstructed caprese salad. Build your own salad with basil pesto, balsamic reduction and a smoked sea salt, or nosh on a family style Hotel Arts Charcuterie, a plate of assorted and imported dried and cured meats, pâtés with sausages, snapbreads, crackers with a selection of house made pickled vegetables with grainy and fine Brassica mustard.
Second Course: Start with a soup that is the perfect balance of fun, approachable and fancy. Loaded Baked Potato with aged cheddar, double smoked bacon, chive crème fraiche. Potato cheddar velouté poured table side.
Entrée: Beef Tenderloin and Tempura Prawn. "I love a duo main - this mix creates a wow factor without breaking the budget" says Hotel Arts' Wedding Specialist Brian Brownlee.
Dessert: Chef Attended Sweet Treats, boozy flambé crepes including berry mojito and apple brandy.
Finish off your meal with the Digestif & Bitters Bar, as bitters aid in digestion. Let your guests clean their palettes and settle their stomachs before hitting the dance floor with a zero proof bitters bar!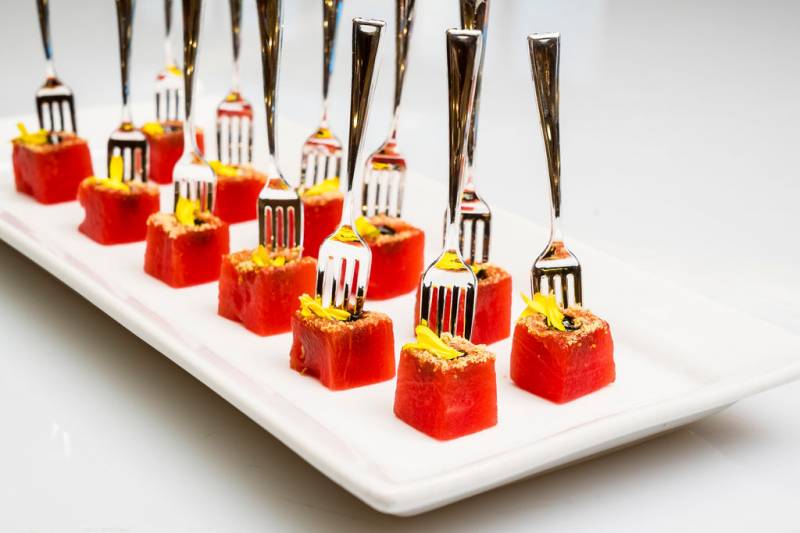 Wedding Menu Trends - Reception Style Dinner
Is your favourite dinner a tapas style meal with friends where you get to try all of the options? Then that is absolutely how you should construct your wedding dinner. Enjoy a mix of micro plates for your reception style wedding. Hotel Arts offers custom menus which infuse different regions into the flavour choices. Whether you are a fusion couple, or have favourite places where you have travelled together and want to highlight some of your favourite spots with your menu choices, the culinary team at Hotel Arts can make it happen.
Passed bites:
Broccoli & Cheddar Arancini, Parmesan Aioli (Vegetarian)
Chili Marinade Prawns, Mango Slaw, Fresh Herbs, Citrus Nuoc Cham (Dairy Free, Gluten Free)
Gochujang Chicken, Green Onion, Black and White Sesame Seeds(Dairy Free, Gluten Free)
Mini Alberta Beef Tostada, Pica de Gallo, Crumbled Feta, Avocado Purée and Blue Corn Tortilla (Gluten Free)
Empanadas, Cilantro & Lime Aoili (Dairy Free, Gluten Free, Vegan)
Togarashi Prawn Tempura, Sriracha Aioli (Dairy Free)
Chef Attended Stations
CANADIAN:
Alberta Beef Short Rib Jar
Aeriated Ricotta & Truffle Pomme Purée, Cultivated Mushrooms (Gluten Free)
MEXICAN
Shrimp Ceviche & Pulled Lime Chicken Tacos
Lava Rocks with crema fresca, house made salsas include fire roasted tomato, salsa verde, black bean & corn, selection of house hot sauces
Tri-Coloured Tortilla Chips, mortar and pestle style with fresh guacamole
ASIAN
Korean Striploin
Korean Style Roasted Striploin of Carved Prime Alberta Beef, Kimchi Aioli, House Pickled Vegetables, Hot Steam Buns
Vegan Pad Thai which can be served up in Chinese style container boxes with your couples initials or monogram! (Dairy Free, Gluten Free, Vegan)
Wedding Menu Trends: Post Wedding Brunch
For couples who got married at Hotel Arts, this is a great way to keep the festivities going (who says you don't get a wedding weekend?!). Hotel Arts will save and repurpose your wedding décor into a gorgeous brunch the next day, allowing you to connect with friends, family and out of town guests the morning after your celebrating, set in either the ballroom or our event foyer with a pool view.
Toast Bar: Wild Salmon, Avocado, Wild Mushroom, Poached Egg
Frozen Breakfast Pops: Yogurt Parfait, blueberry yogurt, blackberry compote, coconut almond granola crust
Banoffee Chia Breakfast Popsicles, banana, caramel chocolate shell with golden graham crunch
Signature Pancakes: Cookies and Cream, Jalapeno Cornmeal
Custom Station: Lavender-Gin Mimosa
But who says brunch is only for the morning after your wedding? Think post stagette, or bridal shower or really any Sunday with your babe or your bestie, because at Hotel Arts, they know how to brunch with the best of them. Book a long table in our central alcove for a semi private brunch at Yellow Door Bistro. Named the 2019 Local Favourite for Brunch by Where Magazine, Yellow Door Bistro offers an incredible brunch buffet, served up in Le Creuset and a la carte options.