We're thrilled to welcome our friends from The Lake House as guest bloggers today to celebrate all things beautiful about hosting a winter wedding in Calgary!
Top Reasons Why You Should Start Planning your Winter Wedding at The Lake House
Winter wedding planning - if there's something about those words that send a shiver down your spine please, FRET NO MORE! Winter weddings are more magical than any frozen fairytale you've heard before.
In Calgary, winter blankets the city for approximately 6 months of the year. Although the snow doesn't settle for quite that amount of time, the lower temperatures and shorter days lend perfectly to cozy comforts that are perfect for complementing your dreamy wedding celebration.
Escape to a winter wonderland within the city. We've put together our top reasons why an inner-city winter wedding at The Lake House is ideal for saying "I Do" in the most gorgeous and snow covered way possible.
Here are our top reasons why we think you should say "I Do" During the Winter season:
Let's get cozy
In the winter months, enjoy our roaring fireplace decorated with winter florals and candles. Exuding rustic elegance, this magical centrepiece will set the scene for your entire wedding day, and your guests will appreciate the warmth. Along with the gorgeous stone fireplace, you and your guests will also be able to enjoy the ornate elk chandeliers and fantastic views of the surrounding frozen lake.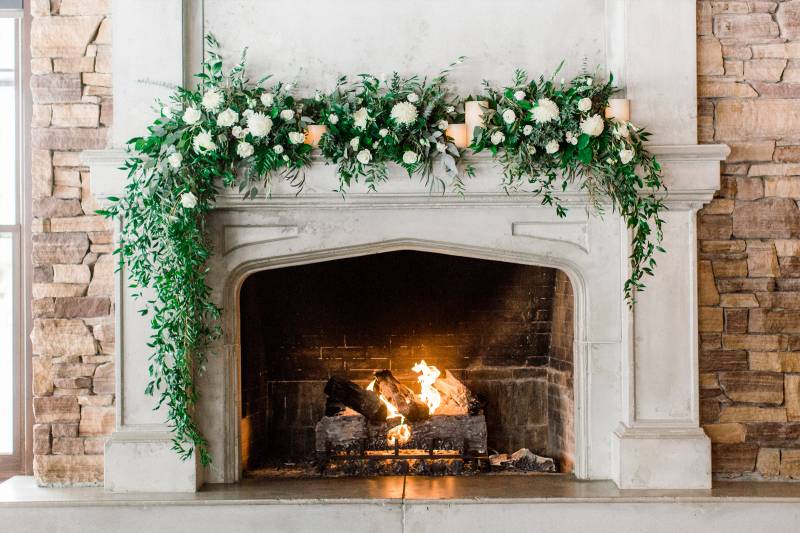 No overheating and cozy wardrobe choices
While the majority of summer brides worry about how to sweat-proof their makeup and avoid overheating in scorching summer temperatures, our winter brides play the cooler temperatures to their advantage. Without having to worry about rain, wrap yourself up in warm stylish fur capes or coats, and share a cuddle with hubby under snow covered trees. Flakes in the air are perfect for adding a touch of glitter and sparkle to photos, the icing on the cake to capturing the true winter essence of your day!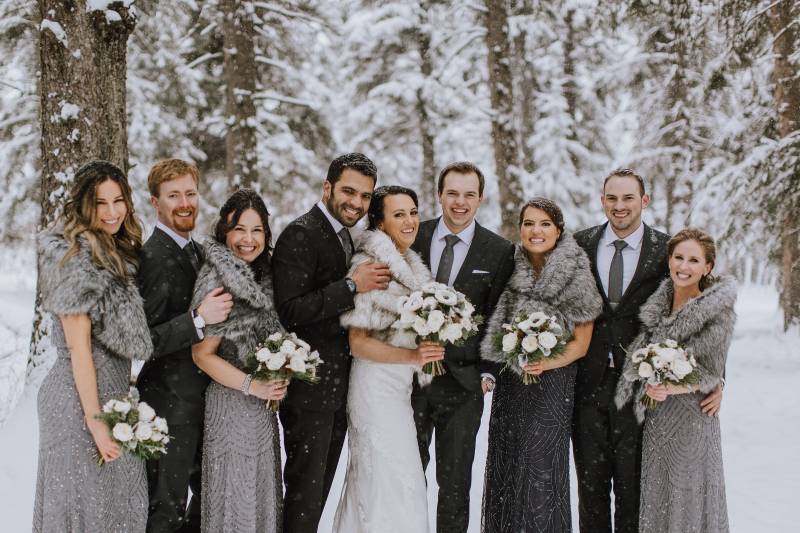 Deck the halls with bells and holly
Fall and winter décor is warm and reflective of the colder months. Taking inspiration from the hues and tones of the season, flowers, foliage and candle light adorn tables and bouquets in tasteful fashion. As the leaves turn yellow and begin to fall, take advantage of the warming tones in photographs, and use them to accent the wooden tables, chairs and fixtures in our Main Dining Room.
Insider tip: Did you know that we have a talented team that decorates The Lake House every Christmas season? For brides and grooms looking to tie the knot between December and January, decorations including a twinkling Christmas tree will be ready up for you to enhance your festive celebration.
Endless Photo Opportunities
During the winter months, Lake Bonavista sits frozen like a giant rink, playing backdrop to your wedding day. Crisp fresh air, against the glistening ice covered lake creates a frosty, fresh and fabulous album to look back on in years to come. Take advantage of a glorious white speckled background, and allow your chosen wedding day colour scheme to pop out and warm the eye.
Warm Winter Eats and Sips
Complement the colder months with a selection of warming eats. Your guests will be yearning for more bites of our delicious Rocky Mountain Cuisine infused with flavours of the season. Our award-winning wine list features an array of full bodied wines, perfect for raising a glass and cheering with friends and family on your special day.
The First Cut is the Sweetest
Work closely with our in-house pastry team works closely with couples to re-create your visions set to amaze guests and please everyone with a sweet tooth. Embracing the flavours of the season within your wedding cake is a creative and more importantly, delicious way to highlight the time of you choose to say, "I do".
Add a little touch of winter magic to your day, with sparkles, flavour and personalized designs with our in-house pastry team.
.
Relax and Enjoy your Day, Whatever the Weather
The most important factor to consider on your wedding day, be it any time of year, is that you can relax and trust the day will run smoothly. That's where our in-house team of event experts come into play, ensuring your day flows without worry, whatever the weather! Trust us when we say we've seen and worked with it all; and there is no amount of snow, hail or rain that would dampen our spirits, ensuring you have the most enjoyable day possible.
Combine these top reasons to celebrate your special day and we guarantee The Lake House will hold a fairytale ending, remembered for the rest of your lives!
View The Lake House's wedding packages for quotes and prices, or get in contact with their extremely knowledgeable wedding team with any questions you might have.