Sweet peach, how stunning is today's inspiration shoot from Calgary wedding photographer Kristi Sneddon Photography and Calgary wedding decor company Orange Trunk Vintage Styling and Rentals? It's a shoot that exemplifies the perfect use of prairie beauty, the natural light of a late afternoon sunset and a sweet, pure beauty of a couple in love. Using fresh peach as the foundation of the colour palette, you'll find pastel inspiration throughout, with rustic details and splash of bohemian elements. Hear more from the photographer and meet the entire Creative Team after the jump!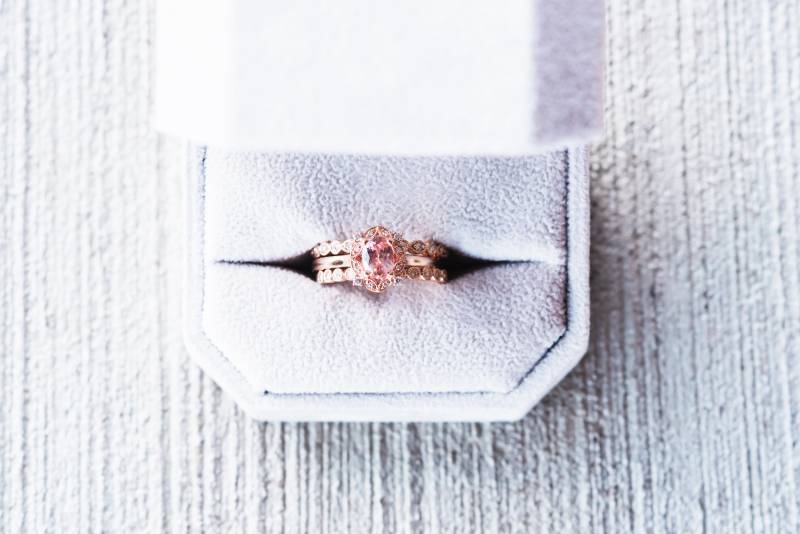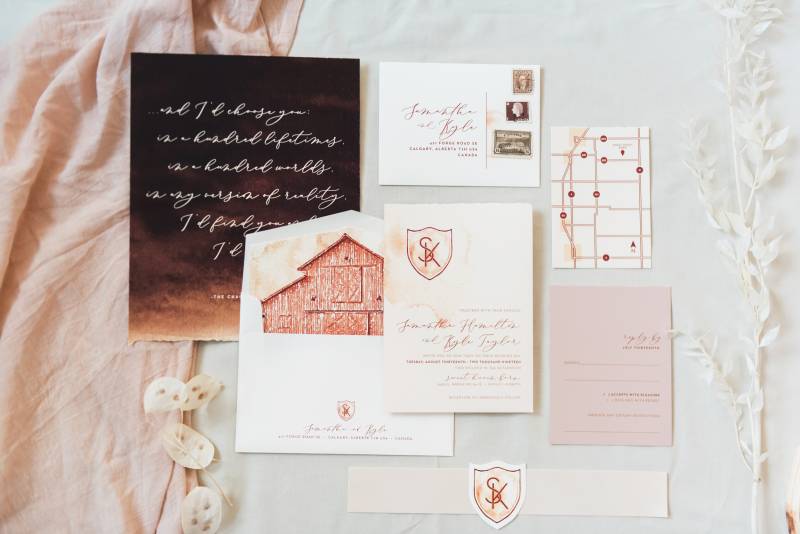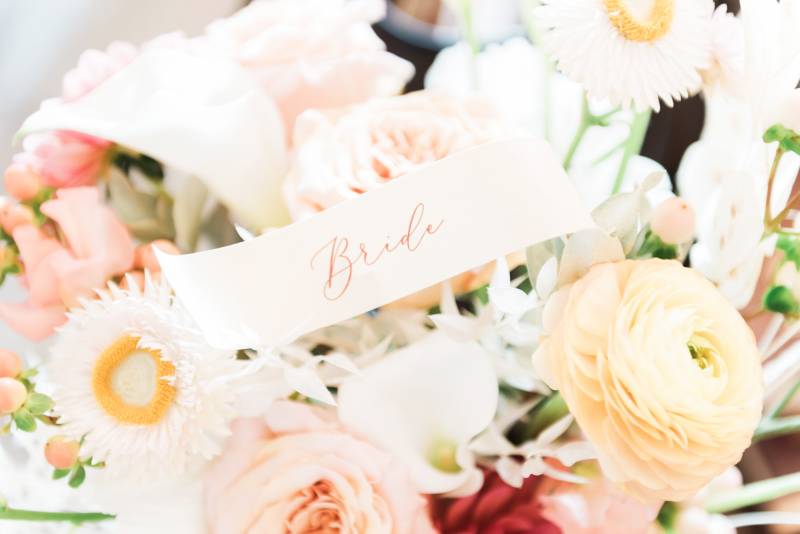 From the Creative Team:
As soon as I walked in... WOW! This place is stunning! Gorgeous wood, stunning chandeliers, soaring ceilings, a bridal suite to die for, and the smell, so good (not something that you expect from a Barn!) As I'm chatting with Tanya she explains that each board was hand stained, talk about attention to detail! As I take the tour, I'm thinking I HAVE to do a shoot here! So I called up my good friend and amazing stylist, Heather from Orange Trunk styling and vintage rentals and told her this is a perfect place for a shoot! We never looked back! We found the coolest of vendors that were so excited and pulled out all the stops.
Heather decided the concept and feel and did all the running around plus provided all the antique furniture from the loveseat for the head table to the buffet for both the savory and the sweets, the incredible bar cart topped with drinks from Charton Hobbs. And even the cute white tables for the ceremony.
Tanya from Sweet Haven barn was so sweet in letting us take over her gorgeous new venue! And take over we did!
Lovenote provide a Hibiscus dress by Rembo Styling with the prettiest of lace bodice with scallped edges and flowing accordion pleated tulle over a ultra soft lining that fit Samantha perfectly. Ed Williams Mens wear provided us with a causal kakhi sport coat and navy pants that suited (see what I did there, hahaha) the style perfectly. Robin from Ave Beauty worked her hair and make up magic with Joanna Bisley's hairpiece and jewellery. Side story about how detailed Heather is...She brought the spoon we were going to use to our meeting with Joanna, just to make sure the jewellery matched!...we may have teased her a bit on that one:) ADX diamonds provided us with stunning rose gold wedding rings. So unique!
Clarissa from Foxtail floral designs created these incredible minimalist bouquets that were nothing like I've seen before. Lots of cornflowers, sweet pea's, dahlia's, cosmos, calla lillie's, shimmer roses, bleached Italian ruscus, delphiniums and peach hypericum berries in beautifully hand made terracotta pots from Saffron Collective Studios. PS: don't worry Heather brought her spoon to the meeting.
Now onto the FOOD! So many great people involved! Fork and Farm came out to create the yummiest of dishes! Things like: 1. Peach + Grilled Octopus w/ fava bean, mint verde, crispy shallot rings 2. Grilled Peach + Scallop Aguachile W/ cucumber, shaved onion, chili water 3. Peach Gazpacho w/ avocado, cucumber, feta 4. Peach + Speck Prosciutto Salad w/ pickled walnuts, goat cheese 5. Honey Ricotta + Peach Crostini w/ crisp speck prosciutto, basil 6. Peach + Ricotta Tart w/ chili, honey, pepper. Everything tasted sooooo good.
Tracy from Sugar by Tracy provided us with an assortment of cake and sweets from things like Southern Whiskey Peach Macs, Cardamom rose water donuts, Spiced Peach Habanero Cupcakes, Glazed Peach & Mango Hand Held Pies, Ginger and vanilla bean cake pops, Summer sangria cake. We rounded out the desert table with candy from Alyssa at The Sugar Cube. But why stop there with the sweets??? Frozen assets came out and served us Ice Cream and Popsicles. A perfect treat and sooooo good (Did I mention that my favourite food is ice cream - I'm in heaven with this!)
Now how do we explain what we are eating...thats where The Social Page comes in. The spoon reappears at the Social Page production meeting...again it was a perfect opportunity to tease Heather and make sure everything matched. We were blown away, so many things they can do! We got a custom flag for the bar cart and a banner for the back of the truck. The menu was printed on a stone cutting board, beautiful custom invitations with an image of the barn in the envelop liner! Everything was customized perfectly, I think the spoon came in handy ;) I photographed it using a Curated kit that had spools of stunning custom dyed ribbon, beautiful jewellery case, bride/groom tags,and so much more.
Now what to do with the dance floor? I met Vicky from Ynot event graphics at a trade show and fell inlove with their idea! Custom Dance floors (among other cool things)! The Social page shared their design and Vicky and her team did their magic. It was so fun to watch it go in! And the perfect way to end the evening! My sister-in-law lent me her very orange 1970's truck to top off all the stunning details.
Sammy and Kyle, our real couple models...What can I say? They took time out of their busy schedules and played with us for the day! When I do these shoots I want to work with real couples because you can always feel the authenticity in the images. These two are no exception! I photographed their wedding a couple years ago and they are still infatuated with each other and have so much fun together, I think it shows!
Oh and that spoon...never did make it into the shoot!!!!!"