We're thrilled to welcome our friends from Calgary wedding venue Heritage Park to the blog for a Guest Post!
In this day and age with the popularity of Pinterest and Instagram, couples are continually looking for a way to make their wedding unique, and put their own special brand on the day. It can be challenging to find that one thing that will set your wedding apart and make it something your friends will talk about for years to come. Finding a new twist on something you may not have considered for your wedding will help you do just that! While many Calgarians visit Heritage Park as children, few realize the options available to create a spectacular wedding your friends and family will not soon forget.
Adding surprise elements to your event can be immensely helpful in creating that impact on your guests. Hidden within Heritage Park are some little known attributes available for private bookings that will help you accomplish this feat. When booking your reception at Gunn's Dairy Barn, the Wainwright Hotel, Gasoline Alley or any of the venues at Heritage Park, you also have the opportunity to add a one-of-a-kind experience to your wedding. You can opt to rent the historic steam train for the cocktail hour, with guests indulging in a signature cocktail on the platform of Shepard Station, then boarding the train for a trip around the Park.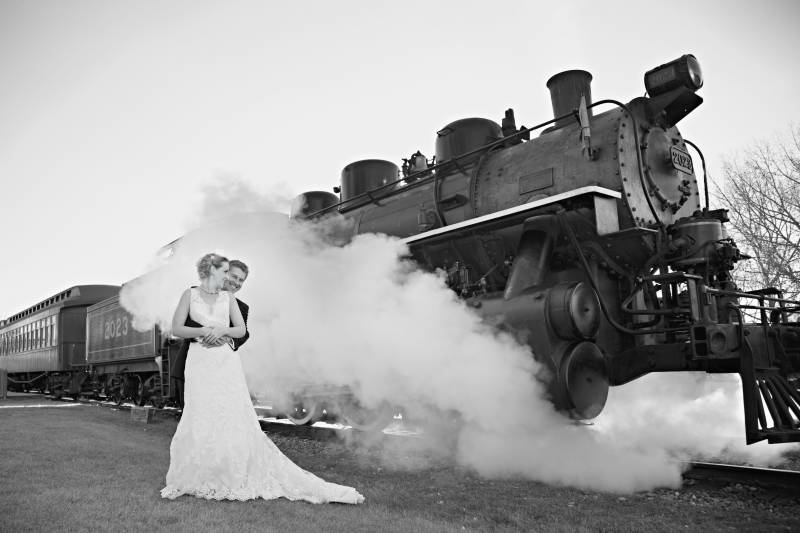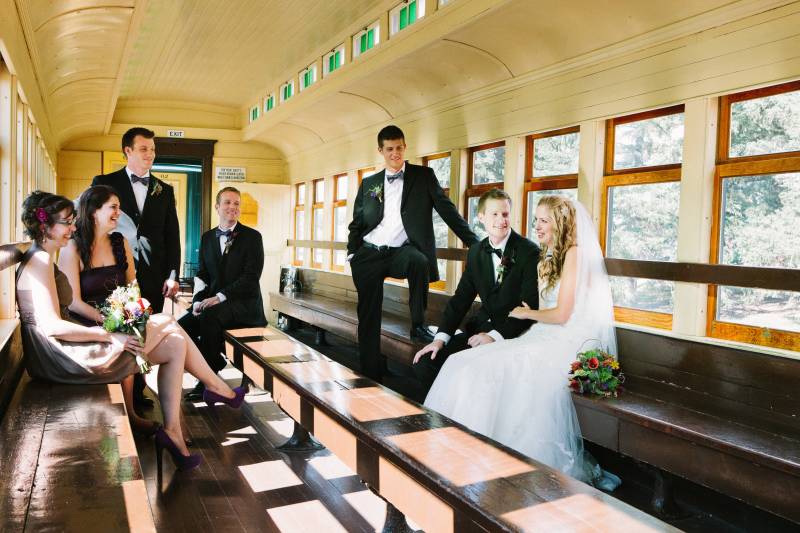 Or hold your wedding ceremony aboard the S.S. Moyie paddlewheeler on the calm waters of the Glenmore Reservoir, followed by a champagne toast as you complete the hour cruise, before making your way back to one of the vintage venues for dinner. Adding either of these elements to your day will have a lasting impression on your guests, and provide a myriad of opportunities for guests to photo document the event with backgrounds unlike any other within the Calgary city limits.
For couples who are looking to add some levity and fun to their event, the rides in the antique midway provide a colorful, fun atmosphere - the perfect instagrammable backdrop for a cocktail hour. Enjoy a ride on the Bowness Carousel with its intricately painted horses made of basswood complete with glass eyes and horsehair tails, the Dangler Swings - its swaying chains offering an unusual, eye-catching detail for photos, or the Big Eli Ferris Wheel which has been transporting couples around its circumference since the early 1920s. All of these turn-of-the-century rides work together to create an unforgettable atmosphere to kick off the evening's celebrations.
Whatever unique element speaks to the couple, it will be sure to leaving a lasting impression on their family and friends - both in memory, with the moments captured by your photographers, and cemented online with incredible images being shared by those in attendance.
Everything old truly is new again, often it just takes a different perspective to appreciate the elements we have available right in our hometown.
Conversely for the more traditional bride and groom looking to add a bit of historic flair to their wedding, in the summer months a horse drawn carriage can be booked to transport couples within the Park to their big day. Brides looking to have a Cinderella arrival to their wedding have the opportunity to book the Landau carriage and arrive in style for the ceremony. The carriage, complete with a costumed coachman, will whisk the couple away from the ceremony at its conclusion, adding pomp and circumstance of historic proportion.