Today we're welcoming our friends from the Fairmont Chateau Lake Louise to the blog with inspiration for planning your dream Rocky Mountain wedding!
Picture yourself saying "I do" in front of one of the most iconic and spectacular backdrops in the Canadian Rockies. The photos say it all.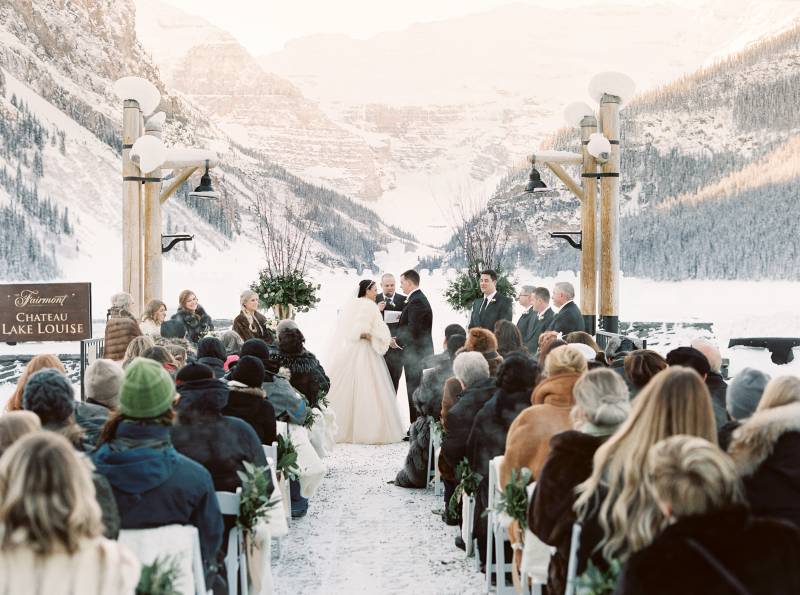 A fairytale setting in the Rocky Mountains
The blend of glamour and grandeur is right at your fingertips at Fairmont Chateau Lake Louise. Located in the heart of Banff National Park in the Canadian Rocky Mountains, this iconic luxury resort is perched on the edge of a majestic lake, surrounded by dramatic mountain peaks. No matter the time of year, the natural beauty of Lake Louise paired with a backdrop straight out of a fairytale creates an unforgettable setting for a wedding.
Celebrated as one of the top 10 resort hotels in Canada by Travel & Leisure's World Best Awards, Fairmont Chateau Lake Louise has long been a top Canadian destination wedding venue for couples to tie the knot. Couples from across the globe travel to this piece of paradise. Set your special day in the winter months and you will feel like you have stepped into a real life snow globe. Match that with the world-class luxury and services offered at Fairmont Chateau Lake Louise and you can look forward to a wedding that blends natural splendor with a sense of ease.
Choose from jaw-dropping ceremony venues
Your ceremony is set to be nothing less than picturesque, with multiple indoor and outdoor locations to frame your wedding vows. Whether it's a waterfront ceremony on the Lakeshore Terrace, a hilltop ceremony overlooking the lake on the Victoria Terrace or an intimate indoor ceremony in the Sunroom, the elegance of Fairmont Chateau Lake Louise is timeless - your wedding will never go out of style.
INSPIRATION: Let the mountainscape be your backdrop
Fairmont Chateau Lake Louise is so impeccably maintained, that there's little need for additional decor. The snow-capped mountains and iconic lake are all you need. Your reception space speaks volumes about your wedding and for couples looking for old-world glamour, Fairmont Chateau Lake Louise offers two ballrooms that fit anywhere from 50 to 550 guests! The Victoria Ballroom has not only the Victoria Terrace adjacent to it but the Victoria Foyer as well, which makes for the perfect post-ceremony cocktail venue.
INSPIRATION: Use lighting to highlight the elegant architecture
Use strategic lighting to highlight the beautiful architecture of both the Victoria Ballroom and the Mount Temple Ballroom. Playing the light and shadows off the moldings, pillars, and beams in the space will create incredible ambiance. A wedding menu that your friends and family won't soon forget When it comes to cuisine, the culinary team at Fairmont Chateau Lake Louise are inspired, creative and extraordinary. Whether you opt for the most popular decision the Chef has created with their pre-selected menu items, or create a menu that speaks to your history as a couple, your family and traditions or your foodie tastes; there is no better team to work with.
INSPIRATION: Leaving the wedding cake design to the culinary team
Work with Fairmont Chateau Lake Louise's very own pastry team to design the perfect wedding cake. Not only does it eliminate the variable of when your cake will arrive, but their cake designs and decorating talents fit with every style of wedding, from contemporary to rustic romance.
INSPIRATION: Extend your stay so that you can enjoy everything there is to do in this charming mountain playground.
Fairmont Chateau Lake Louise is a base camp for adventure, which can make for an incredible setting for a wedding photoshoot. Picture yourself curled up with your special someone on a horse-drawn sleigh, or warming up with a beverage at one of the highest Ice Bar's in BanffNational Park. The options are endless.
Special wedding offer
Fairmont Chateau Lake Louise is offering the perfect incentive for your dream mountain wedding. Choose from a number of value adds, which include up to 25 per cent off ceremony venue rental. View offer.
Interested in learning more about weddings at this iconic destination? Check out the testimonials and Wedding Planning Guide here.