Wedding Menu Tasting from Great Events Catering
"The rules have really change as far as wedding food service goes" - now that is a quote our hearts and stomach can get behind. The team at Great Events Catering, is breaking all the traditional conventions for what's being served and how it's being presented, allowing your wedding menu to take (almost) centre stage at your wedding, it's place in the spotlight well earned.
But it's not enough for us to just say it - it has to be tasted to be believed. Great Events Catering is hosting a Wedding Pop Up Market and Food Tasting on September 29, where you can try out all their latest delicacies and creations, and meet the culinary team who are taking wedding menus to the next level.
Saturday, September 29th
11 am – 2 pm
Meadow Muse Pavilion, 15985 Bow Bottom Trail SE
Click here for more details and to RSVP, and hear more about the featured customized wedding experience after the jump!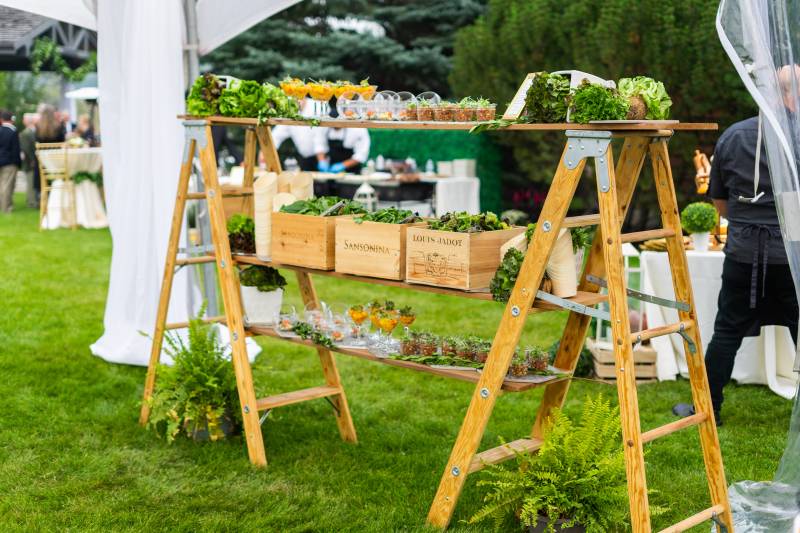 From Great Events Catering, about this wedding:
What was exciting about this event, is that it wasn't your typical sit-down dinner. "The rules really have changed as far as wedding food service goes", explains Michelle Kuenz, Co-owner. Michelle's own wedding a few years ago featured action stations and themed buffets. She's super passionate about current catering trends, and encourages us to keep up on top of them.
Cathy Duncan, our Wedding Catering Sales Rep, is no rookie either. She was ecstatic to work with a fashion-forward couple such as Brittany and Jared. "The moment I met them, I felt like I had known them forever", says Cathy. "So humble and down to earth and willing to explore. They were so receptive to our ideas!" Cathy has been with us since last year, but she's worked in the wedding industry for 12. She's amazing at paying attention to the little details. Most of her work is in the off-site market.
Before the wedding, Cathy and Chef went down to the land where the wedding would be — Brittany's dad's acreage — and took in the breathtaking vistas at the Priddis estate. Planning the layout of the food stations was a breeze, with each element practically landing itself in place.