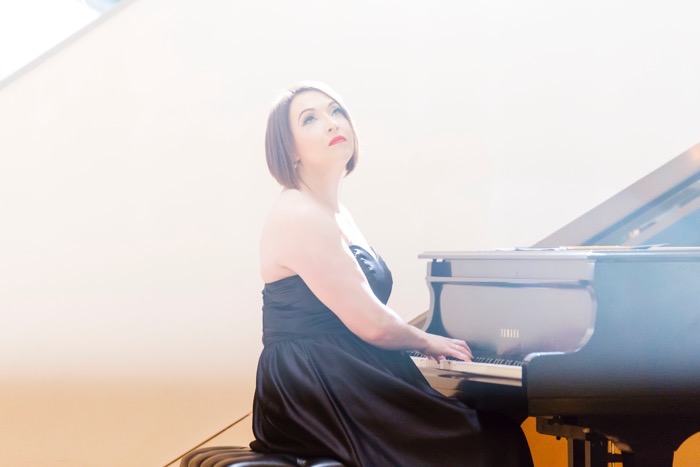 When Sue of Sue Moodie Photography sent me a little peek at this photoshoot, my heart started thumping in my chest. A styled shoot in the heart of our city at Arts Commons, one of Calgary's most glamourous venues, all with a glamourous vintage vibe?! How could a girl possibly resist?! Sue was inspired by the talent that surrounds her to start her own Wedding Vendor Series, and we're delighted to help her showcase the lovely Sarah Van Peteghen of RSVP Weddings - hear why Sue has such admiration for this talented singer!
The talent in this city is incredible. I love surrounding myself with motivated, like-minded entrepreneurs. I decided to start a Wedding Vendor Series that showcases and focuses on the person behind the business. I was delighted to have the amazing Sarah Van Peteghen of RSVP Weddings as my first in this series. I fell in love with Sarah and her voice back at the Fall Boutique Wedding Market. I could literally sit and listen to her create music all day long. With over 15 years in business, RSVP provides a personal and custom-made repertoire of music from YOUR life for YOUR Wedding day. Whether you desire a string quartet, a piano adaptation of your favorite song or the simple sounds of a guitar as you make your way down the aisle, RSVP is here to provide. Having played weddings from Tofino to Gothenburg, RSVP has insider knowledge on the internal workings of a wedding day. Whether you are getting married in a restaurant or on a patio, a living room or towering church, RSVP will complete your day with your exclusive choice of music.
Our inspiration for this particular shoot was "Rhythm Meets Glamour" and so we thought it totally fitting to shoot at the incredible Arts Commons in downtown Calgary while having Sarah adorned in stunning gowns from Durand Bridal. An enormous thank you to HMUA Artist Veronica Isaac-owner of House of Ruby-Rouge, Lindsay at Cinder & Sage and Brooke of Cellar Door Vintage Rentals.
Makeup: Veronica Isaac (House of Ruby Rouge)