We're so excited to welcome our friends from The Fairmont Palliser to introduce their newly renovated space, The Oak Room!
With over a hundred years of tradition in hosting weddings and events, Calgary's iconic Fairmont Palliser is now ready to host your special day with a fresh look. As a part of a major food and beverage renovation project, the popular Palliser's Oak Room has been fully revamped. What you might remember as an outdated dark space was reinvented into a beautiful modern-vintage venue, which will soon become one of Calgary's premier function spaces. Along with the hotel's commitment to perfection, this new venue will help you to create memories you will cherish for a lifetime.
Palliser's Wedding and Social Catering Manager, Elise Penny, is the brain behind your excellent wedding experience. "I love being a part of such a huge milestone in a couple's life. It is so rewarding to be able to help a couple start their married life together. I also love being able to carry my relationship with my couples beyond their wedding day and help them to plan their baby shower and other celebratory moments", says Elise. Elise has been in the wedding industry for ten years. Elise is a certified wedding coordinator with a real passion for her profession and dedication to her clients. Her extensive knowledge of the wedding industry helps her to address the individual needs of every client.
With the vision of becoming the hottest place in town to eat, meet, socialize and celebrate, Fairmont Palliser also revitalized its Banquets program. Palliser's Executive Chef, Eraj Jayawickreme, has implemented creative offerings in the banquet menus and re-energized the banquet presentations to provide you with the best restaurant-style banquet experience.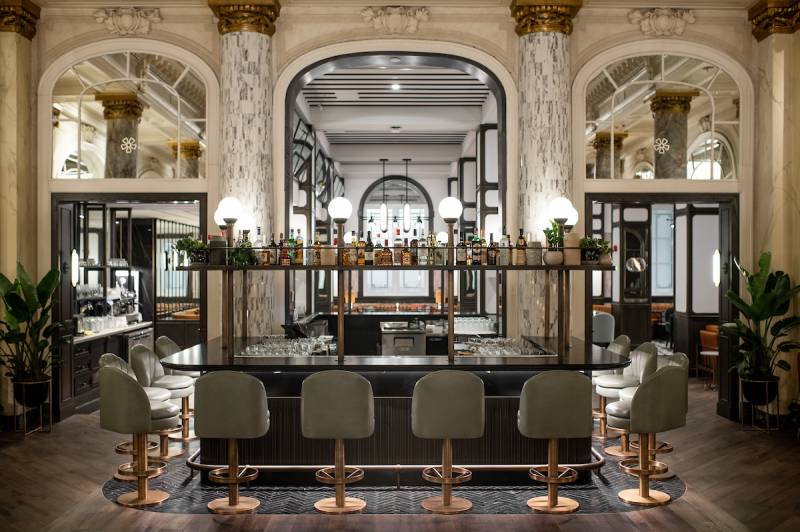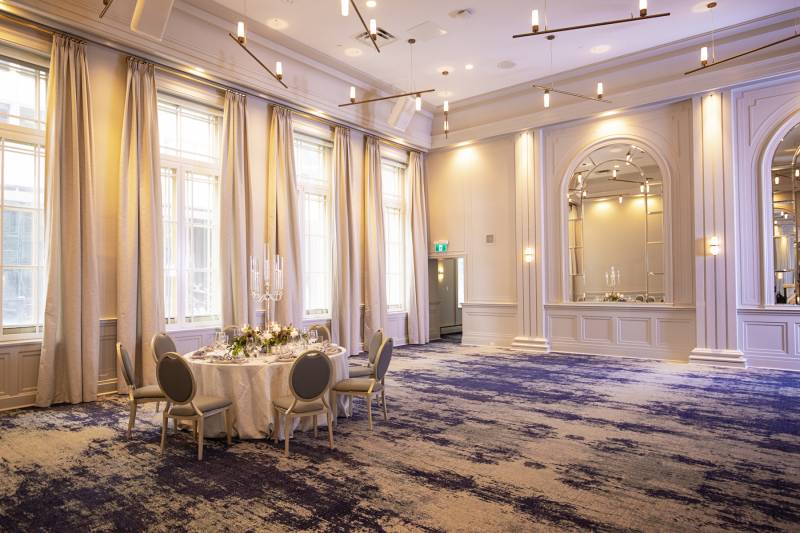 The Oak Room
Light as a whipped cream frosting and soft tulle fabric on your wedding dress, the reinvented Oak Room is THE venue for your dream event. Whether you are planning an intimate or grand celebration, this new space is perfect for hosting weddings, rehearsal dinners, bridal showers, post-wedding brunches and much more. The room entertains 96 guests seated and up to 150 guests reception style. Equipped with brand new furniture, a service kitchen and top tier staff, Oak Room sets the ground for a flawless wedding scenario. This space is now available to reserve on an exclusive basis for your next private event.
Instagrammable Restrooms
"Wow!" is a kind of reaction the new visitors have when they enter Oak Room restrooms for the first time. With an extraordinary flower-pattern wallpaper covering every inch of the walls, this space can easily serve as a private photo booth. Your bridesmaids' pictures have never looked better! In addition to some extra Likes on your feed, the restrooms are well lit up and provide a lot of extra surface space. Whether it is an emergency make-up fix or an urgent removal of the stain on the wedding gown, every situation seems easy to handle, when you are surrounded by "the garden in bloom."
Hawthorn Dining Room & Bar
The newly-renovated Hawthorn Dining Room & Bar is a perfect sanctuary for the groom and his groomsmen. Are you craving a glass of scotch or our popular signature Old Fashioned? Hawthorn's cocktail lounge embraces you with its elegant and vibrant atmosphere, while you enjoy drinks from our revitalized cocktail menu.
Are you ready to experience your dream wedding in the magical new space at Fairmont Palliser? For more information on booking The Oak Room, click here!