After a private, intimate wedding, real couple Krista and John teamed up with Calgary wedding photographer Schae Photography to create this incredible styled shoot. With a distinct bohemian vibe, this shoot is warm and natural. Using a variety of textures and fabrics as well as distinct bohemian wedding decor details, this shoot is envy inducing. Hear more from the photographer and meet the entire Creative Team after the jump!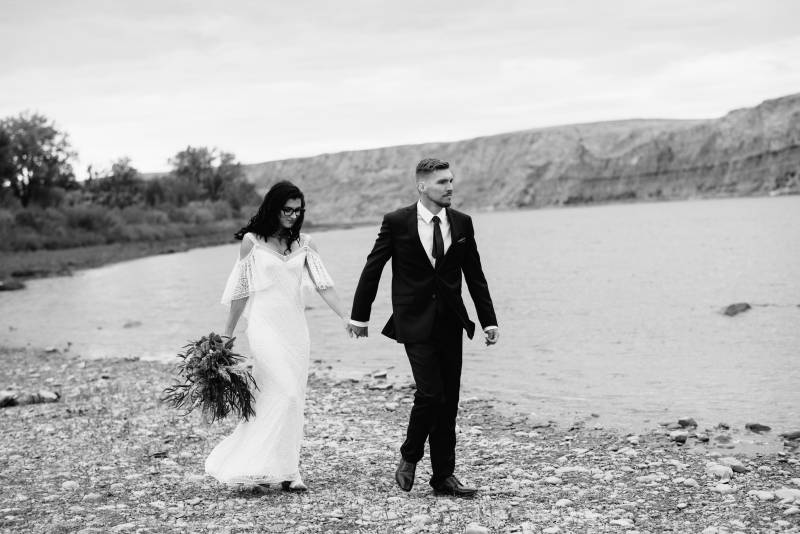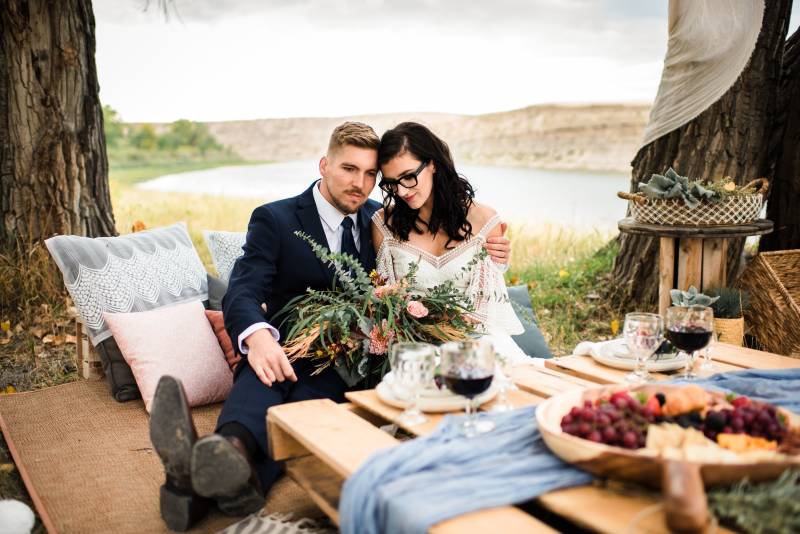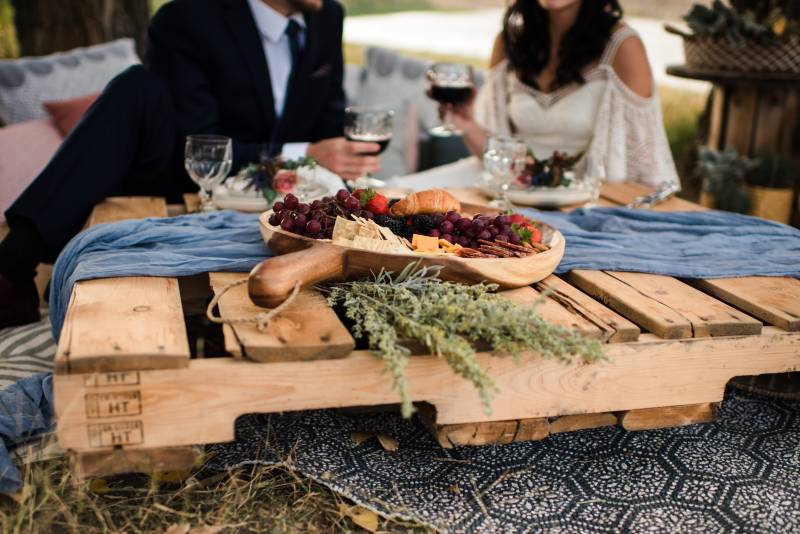 From the photographer:
This was a REAL styled wedding session- this wonderful couple had a small intimate wedding at their private home a month before this shoot and they wanted formal photos taken on another date. I loved that they wanted to save their actual wedding day for just themselves. We ended up styling this session around them to create the memorable and artistic photos they were dreaming of!
The theme was a soft boho feel and it aligned well with the prairies and coulees where these were taken. We used a smokey palette filled of dusty pinks and blues... and of course a gorgeous touch of greenery to accent the lingering greenery left before everything turned brown! The colours and tones of the florals were perfect among all the other décor and her gown. Sage, eucalyptus, and soft coloured flowers of pinks and oranges were used to really offer a subtle pop.
The bride's taste perfectly correlated with our theme. The intricate yet simple details of the fabric, plus the unique sleeves made her gown a main focal point for the photos! I loved that it was comfortable for her but looked so elegant and interesting! One thing that I loved was that instead of traditional rings, they had their fingers tattooed to represent their love.
The triangle arches were custom built and offered a modern, simple, and unique feel to our concept. The three triangles could easily be arranged to a lot of formations and it also allowed for a lot of symmetry in my photography. The picnic setup was also filled with beautiful details consistent to the theme and colours of the bouquet, gown, and triangle arches.
I just really love that the couple did what is right for them- who says the photos HAVE to be done the day of their actual wedding? Saving the photos for another day means you can get into your dress for a second time, have a lot more carefree time shooting photos, and you can schedule the session around optimal light before sunset! As the photographer, this was the first time I worked with a couple with this mindset and I loved it!