We want to let you in on a little secret - the best wedding venues are the ones that are totally versatile. A room, a space you can create your dream within. When you find a venue that can host any size wedding, of any theme, with every need fulfilled, then you know not only have you found a great place to host your guests, you have found a top tier staff that can handle all the curveballs that weddings throw at them. Because it's not just about the venue - what separates the good from the great weddings are the staff that work tirelessly to make your day flawless.
Hotel Arts is an iconic Calgary wedding venue. Famous for it's great location, it's amazing art collection, impressive menu and unparalleled on-site services, it's about as versatile a wedding venue that you can find. If you're looking for a contemporary, independent and local wedding venue in Calgary, Weddings by Hotel Arts offer flawless service in an inspiring atmosphere, from their grand ballroom, to pool-side receptions, to an Estate buy-out in Kensington.
Hotel Arts' Wedding Specialist, Brian Brownlee, has become a coveted name for weddings in Calgary. "I love the personal connection and being there with the couple. It's an honour to be trusted with the wedding. You have one chance to get it right." says Brian. With over 15 years of wedding planning experience, Brian commits to creating a magical day for the couple and their guests.
With an incredible network of vetted Calgary wedding vendors, Brian works with couples to create the perfect event. The most memorable parts of weddings are the food, the service, the decor and the DJ - and Brian knows the best vendors in the city who will create a magical wedding day.
Weddings with Hotel Arts Group are flawless and stress free. Inspired by their incredible spaces and services, here are four ways to host an unforgettable Calgary wedding at Hotel Arts!
Hotel Arts Ballroom
Can we say luxurious? The ballroom at Hotel Arts hosts 20-600 seated and up to 700 people reception style. Yes, we're serious. Whether you're looking for something intimate or grandiose, when you book the Hotel Arts ballroom, you get to "own" the hotel, meaning the space is yours for your entire event. The decor and vibe of the ballroom is upscale and boutique, even if you didn't make a single change to the decor, you'll be amazed by the natural ambiance.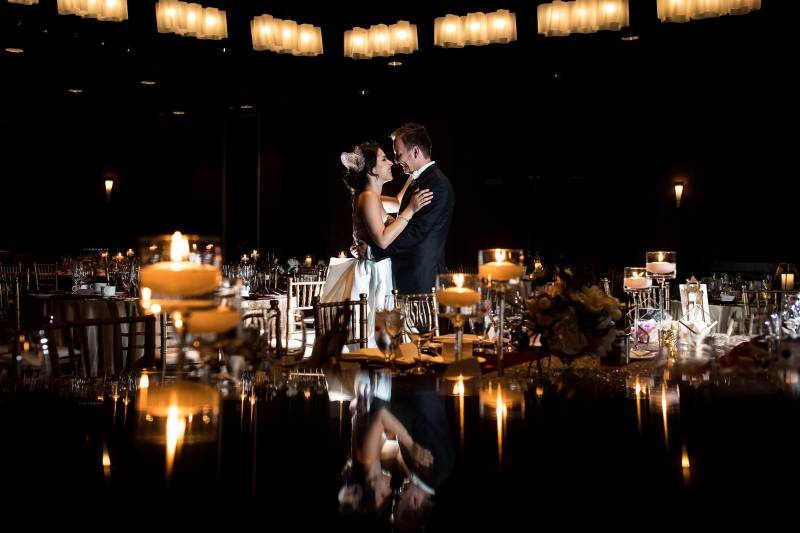 Hotel Arts Kensington: Estate Wedding
A waterfront wedding in Calgary? It's possible, you just may not have thought about it! Hotel Arts Kensington is a classic style estate in the adorable, urban neighbourhood of Kensington. Booking a wedding at Hotel Arts Kensington means you get the buy-out of the entire space, all 19 luxury accommodations are reserved for you and your guests. With the ability to host groups of 30 - 40 for a sit down banquet or up to 100 for a standing reception, it's intimate and warm, with gorgeous views of the Bow River and Downtown Calgary.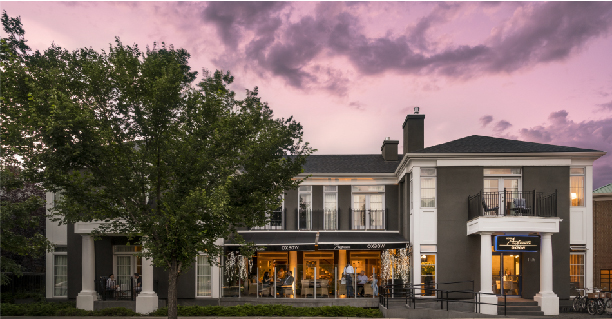 Poolside by Hotel Arts
If your wedding daydreams involve all the Likes you can get on Instagram, then there is literally no better spot than poolside at Hotel Arts. Imagine your guests in their most colourful cocktail attire, the sun streaming down and dancing the day away, all while giant inflatable swans float in the pool! It's one of the most unique spaces in Calgary to host a summer wedding, and with the outstanding staff and services of Hotel Arts right at your finger tips, you can create a luxury experience with serious flavour.
Offsite Catering By Hotel Arts
You found a space that is just divine, but you won't settle for anything less than perfect when it comes how your wedding is planned and who runs it for you. The Hotel Arts offsite wedding package includes planning and execution by Hotel Art's renowned Wedding Specialist Brian Brownlee, plus tables, chair and the works, not to mention the artful and inspired catering selections from the Hotel Arts culinary team.
Ready to find out how Hotel Arts can make your wedding dreams come alive? Contact Brian Brownlee to book your Hotel Arts Wedding!