Today's inspiration shoot is one I simply can not get enough of. I've gone back and forth, admiring the photos of this St. Alberta wedding venue so many times since it's been submitted, I feel like I know it so well! Photographed by Alberta wedding photographer Rhiannon Sarah Photography, this amazing styled shoot is at Alberta wedding venue Events At Holes at The Enjoy Centre in St. Albert and this venue is nothing short of jaw-dropping.
With incredible wedding styling and design by Majestic weddings, this shoot has a soft, airy and romantic feel with of course, incredible garden vibes thanks to the host venue. The ceremony set up is filled with decadent wedding florals by The Floral Studio at The Holes, and it's simply a romantic masterpiece. The bride and groom are still in formal, elegant attire, giving this wedding a dramatic, high end touch. The details in this wedding inspiration are not to be overlooked - hear more and meet the entire Creative Team after the jump!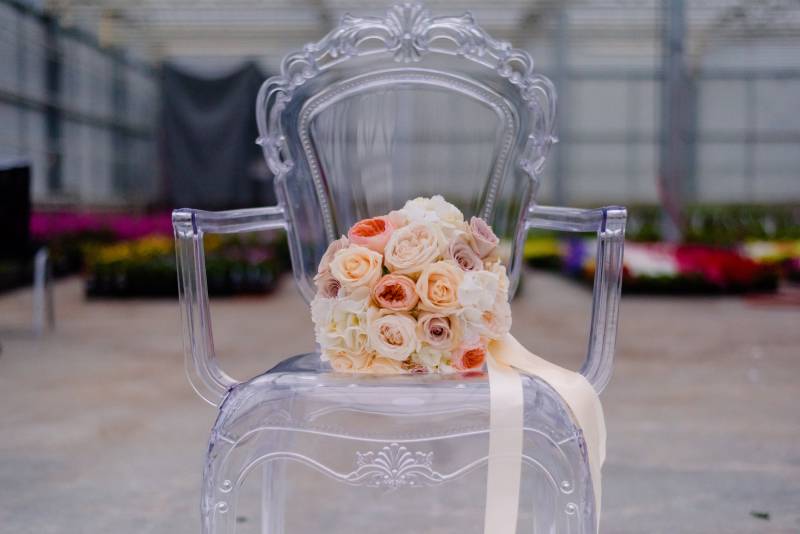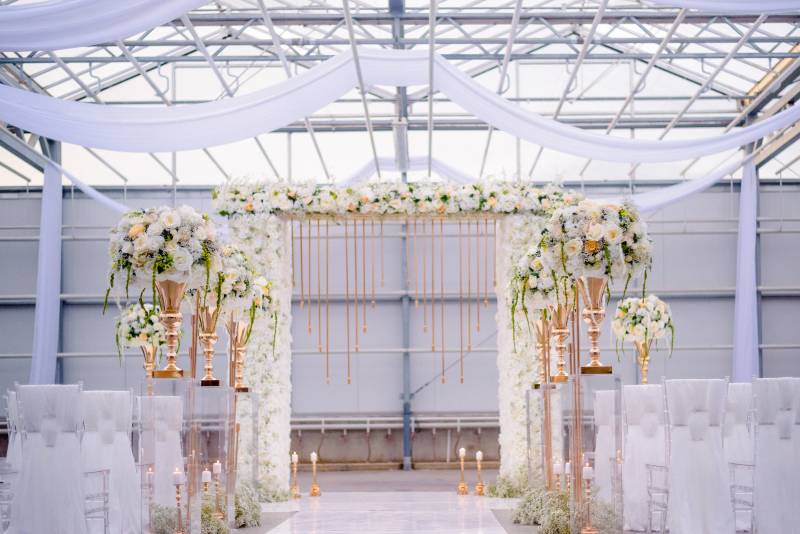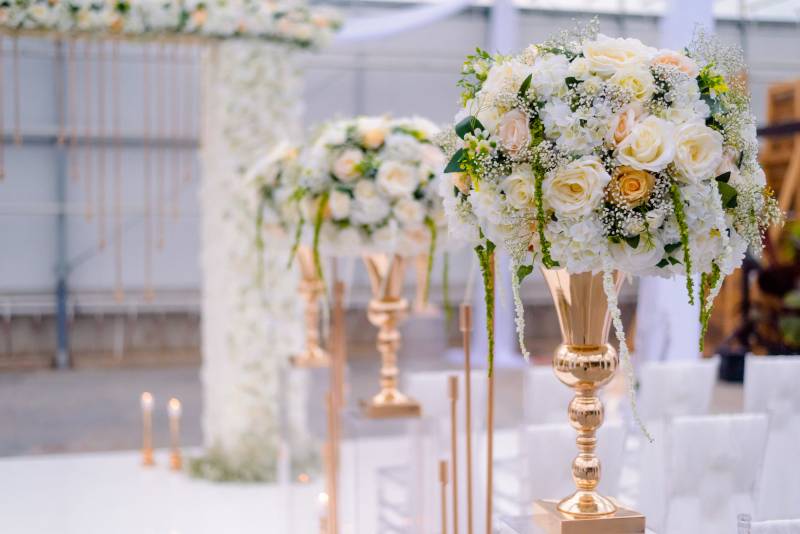 From the Creative Team:
We're excited to bring a new look to the Edmonton and Alberta wedding scene and this new venue in particular. Many people can only picture rustic weddings in a greenhouse, with sunflowers, mason jars, and reclaimed wood walls. We wanted to showcase the other side, a more elegant side. That you don't have to go rustic to have your wedding in a greenhouse and if you ever pictured glam at your big day then this certainly delivers while still bring it back down to earth with some gorgeous bride and groom styled photos amongst the plants. Really giving you the best of both worlds.
Events at Holes and the Enjoy Centre have been around in the Edmonton area for a few years now doing many weddings in other parts of their building, but this particular space is just being opened to the public this summer. Right inside the greenhouse itself Events at Holes has strung large white drapes across the length of the ceiling and down, instantly turning this once workspace for the gardeners into a dreamy industrial wedding venue.
All of the amazing decor, set up, and design was completed by the stunning Iqlima of Majestic Weddings. She saw the venue and knew exactly how to bring the space to life and work seamlessly with Events at Holes to really showcase what they had to offer and work with what was there. Her vision came out beautifully as she works to perfection every time and it shows.
Delica Bridal was very excited to be apart of our shoot and show off this amazing new design by Hayley Paige, brand new to their store when it was presented to us prior we instantly knew it would be the perfect fit. Modern, with a trendy low back, and a long elegant train was exactly what we needed to make the whole thing pop!
Rhiannon of Rhiannon Sarah Photography provided the final step to bringing the whole shoot together, the final piece of the puzzle. Without her there would be nothing to show of all the hard work put in by everybody else. Although we were planning for sunlight as it is a greenhouse the skies clouded over that day and she was still able to make the images look bright and glam! One of the other beauties of having your wedding in a greenhouse, rain or shine you're still going to have a beautiful day. She always makes sure the models look their best before snapping a photo and aided in set up of the shoot adding final touches here and there.
Bee Makeup brought out the beautiful tones of the greenhouse to the makeup and they matched the bright pop's of colour in the plants.
The models were nothing but the utmost kind and gracious we had worked with, willing to do anything and work hard until we got the shots we needed.
We had a lot of fun making this styled shoot, everyone was amazing and pitched in where they could really making it a whole collaborative effort which is wonderful to see!