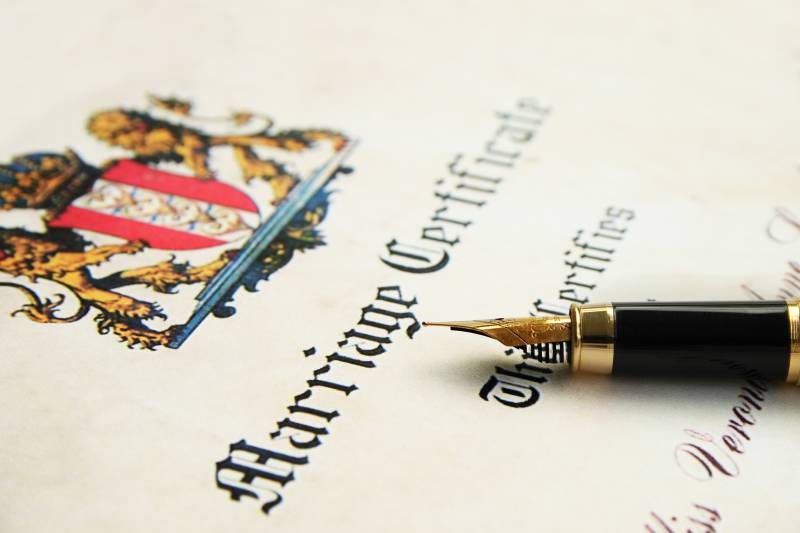 There are a lot of elements of planning a wedding that seems endlessly confusing. Continually updating your RSVP numbers, what time every vendor will be arriving at the venue, what bridesmaid is ordering what gown, and when your next fitting appointment is. So much to keep track of, little things can tend to slip through the cracks. Little things like your wedding license! A crucial part of your wedding, your officiant, absolutely will not perform the ceremony if you don't have a physical permit in your possession. Getting your Alberta marriage license isn't the errand to put your best friend's brother in charge of; this is an errand for you and your babe-to-be alone.
What do you need to know ABOUT your license:
You must apply together in person to get your marriage license - there can be exceptions, but you'll need to check with a registrar to see if these exceptions apply to you.
Make sure to bring your government-issued ID when you apply. The registrar will need to verify all the information you include (including your mother's maiden name).
If one of you is divorced, you'll need to provide proof of the divorce, for example, Certificate of Divorce or Decree Absolute) and divorce documents that are not in English must be translated; check with a registry agent
Don't head out to apply for your license until your wedding is 90 days away - licenses must be used within 90 days.
Don't fold it! It has to be in good condition and can't have any fold lines. Keep it in an envelope in a secure place until the wedding day and give it to your most trusted member of your bridal party or your wedding planner. They will hand it off to your officiant before the ceremony.