European gardens are carefully crafted, planned, pruned and loved, and the same energy has gone into today's beautiful European inspired wedding shoot from Kaity Body Photography and Coco + Ash Events! A gorgeous shoot in the back terrace at Bonterra, it highlights the European accents of the venue with delicate, vintage details from Orange Trunk Styling & Rentals. A pastel palette, a gown with full sleeves and an abundance of florals rounds out this beautiful wedding inspiration shoot - hear more from the photographer and meet the entire Creative Team after the jump!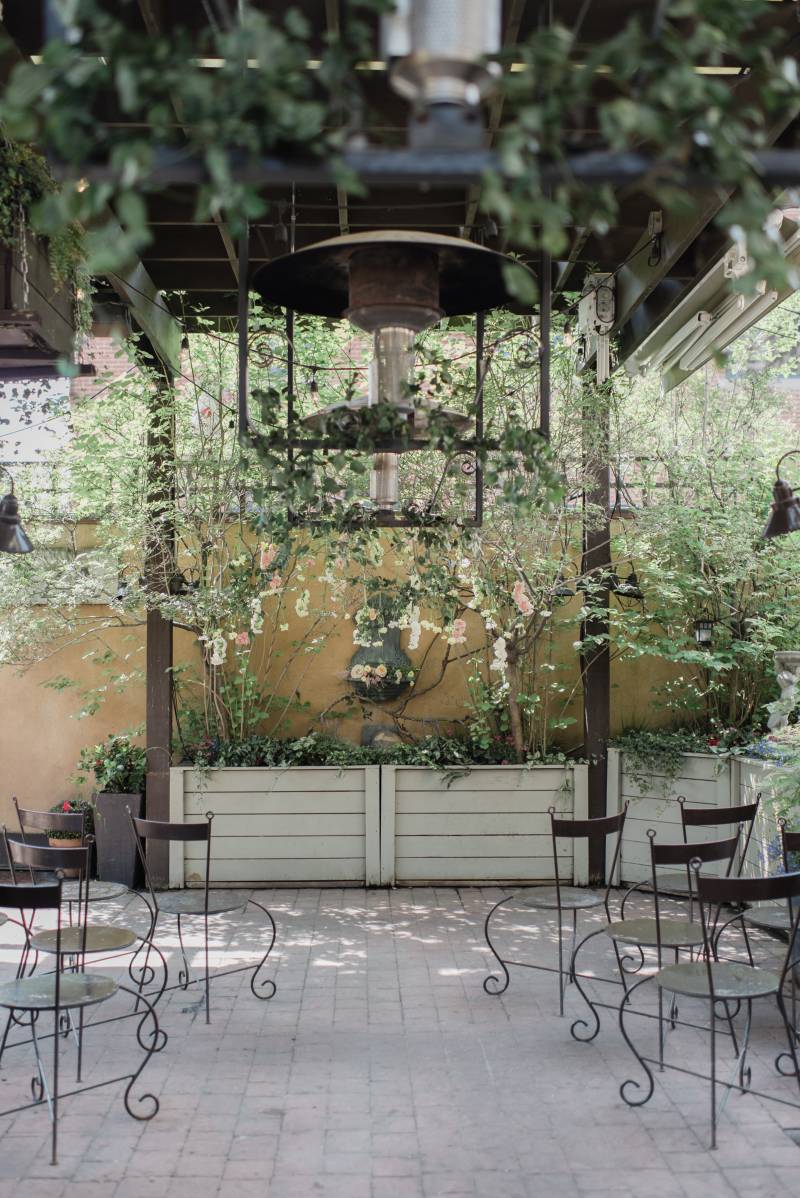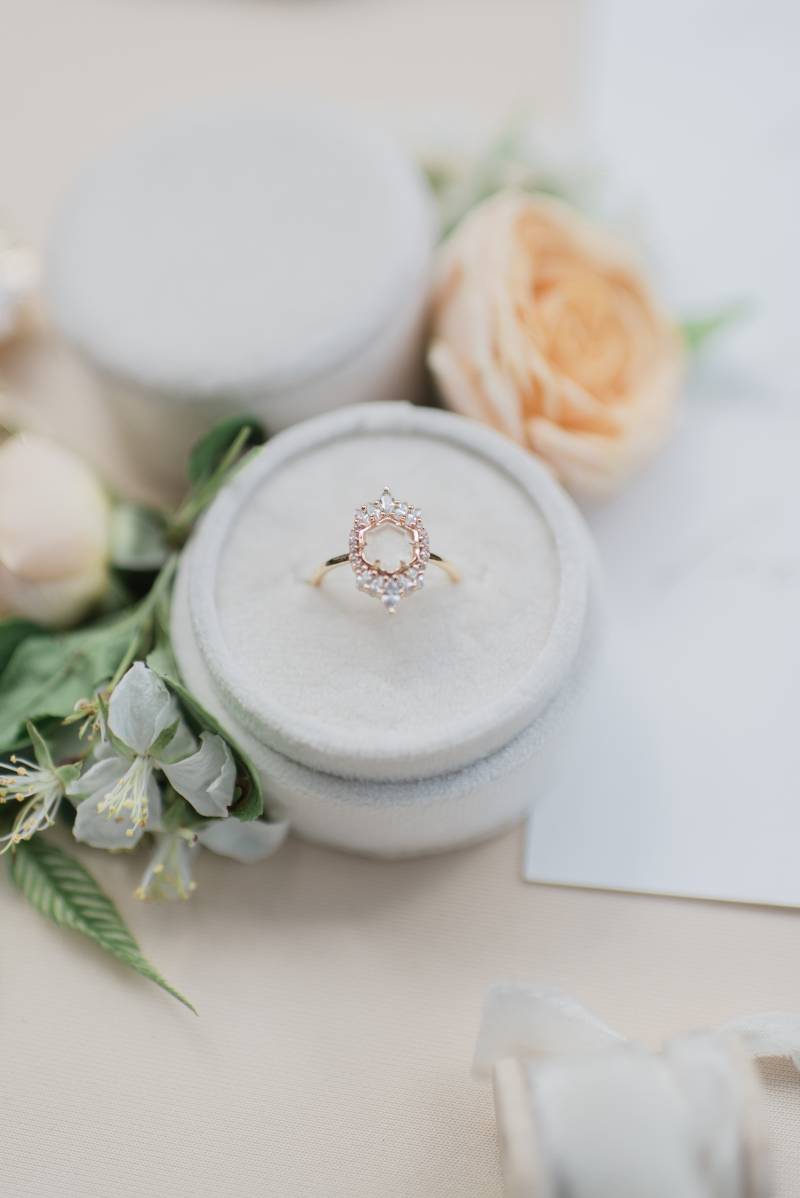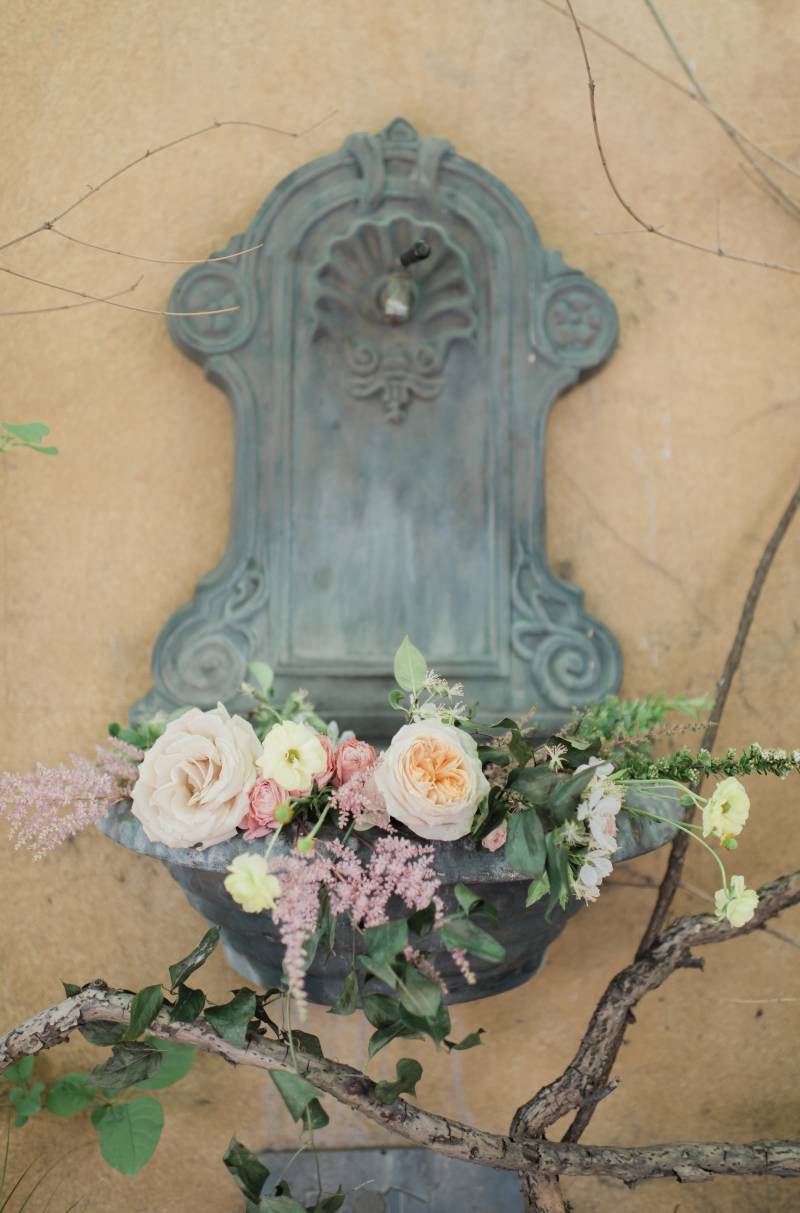 From the Creative Team:
When people think of Calgary Weddings, some themes that come to mind are the Western, Rustic, and Farmhouse Chic. Chelsea from Coco & Ash, and Kaity Body Photography wanted to showcase a different side of Calgary and bring out an old world, romantic, timeless approach. Calgary is full of European Inspired restaurants and cuisine, however Bonterra Trattoria was the venue that really spoke to the creative team as a space that could transport guests from a downtown city centre, to a romantic terrace in Tuscany, with warm late summer sun shining through the rustling leaves onto the cobblestone patio. This is a space that already speaks for itself. Imagine what it can become with a full creative team, with the same vision.
We wanted to focus on a neutral palette with hints of gold, butter yellow, and peony pink. Elli's design through her Small Flower Floral Studio brought these traces of color into the space, and into the rest of the design as well. Her thoughtful, yet organic approach was stunning and elegant, along with Orange Trunk European decor items to fill the space and create a dining display fit for a timeless bride. Speaking of timeless, the Social Page designed hand calligraphy menu, table and name cards, using a hint of gold in their subtle and delicate script. Everything fit perfectly together, it was a dream team from the start, understanding this final result, while adding so much personal touch from each vendor at the same time.
Louanna of Lou Atelier hand crafts each gown in her collection, and this stunning piece made our blue eyed Bride an absolute focal point. The floral cape detail, and light blue underlay fabric complimented Maia's eyes and loose strawberry curls. Rose Quarts jewellery and a simple floral hair ornament from Adorn balanced the final details of this bridal look. The long ivory gown allowed for a whimsical soft feel, which paired perfectly with the details in our Grooms Ed Williams collard shirt, with a light pattern, against the textured grey suit, and neutral blush silks.
Meagan from Urban Artists created a soft, romantic hair and makeup look, pulling in the putter yellow, gold and warm neutrals from the florals, while the undone custom coloured hair mimicked the shape of the low back V shaped gown.
Bonterra Trattoria provided a beautiful Italian 3 course menu, which was plated on Orange Trunk's gold rimmed classic dinnerware alongside the gold cutlery, vintage wood table-scape, and hand dyed fabrics. Bonterra's Garden chairs were the perfect addition to complete the covered terrace. The Orange Trunk golden bar cart was the perfect vehicle for displaying the fine lace detail on Yvonnes Delightful Cake design! Her classic yet minimalist intricate detail tied in perfectly to the florals, the gown, and even our Bride's Adorn hair ornament. Each detail complimented the next in this painterly, warm, Tuscan dream, in the heart of the prairies.