There are a lot of things you can DIY for your wedding. A lot. And for lots of ambitious and crafty brides, it might feel like your invitations are one of those DIY projects that you think you could tackle. Because you know how to use a printer! And you love to glue things! But trust us - we've seen this story before. You start off strong, working away, and you get about one-third of the way through your guest list, and you get a little tired. Then you get about halfway through your guest list, and think, I'm only half done?! And then the second half of your wedding invitations start to look a little crooked. And by the end, you're exhausted, and honestly, not even that thrilled with them.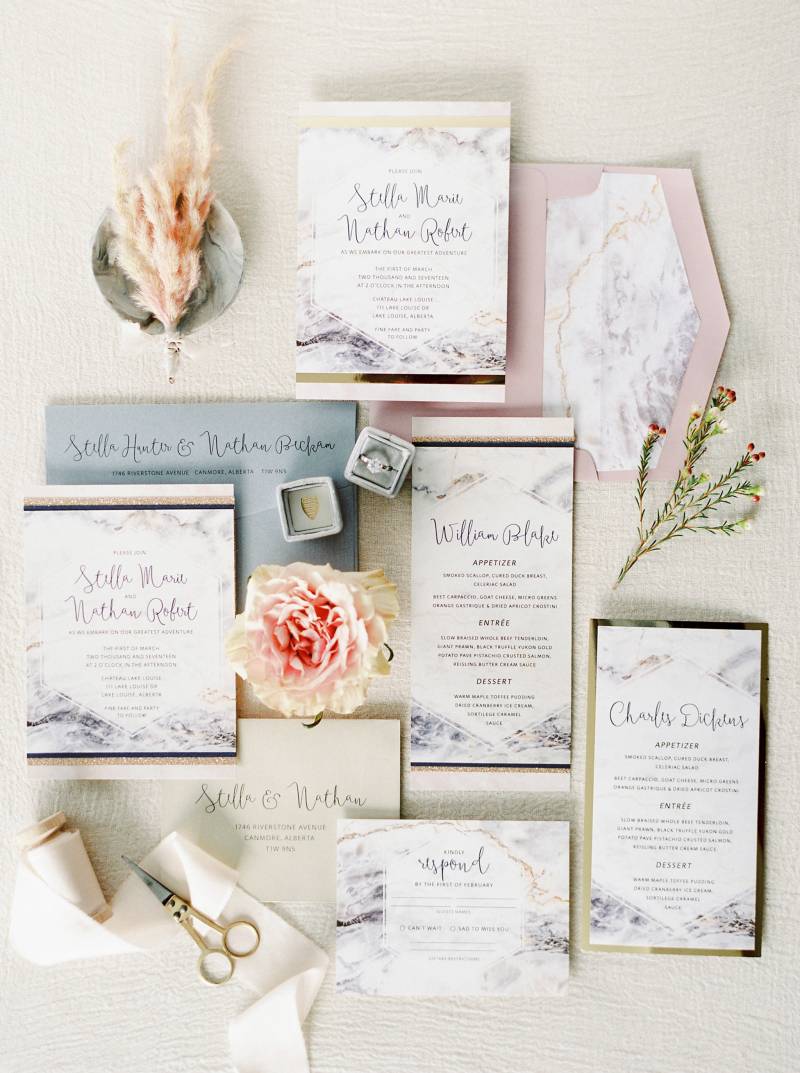 That's why working with a local, professional wedding invitation designer is one of the best investment you can make - goodbye, DIY stress! Shana of Pink Umbrella Designs has been creating beautiful wedding invitations and stationery suites for over 13 years, and there's a reason couples in Calgary and the Rocky Mountains love her so much!

A Rocky mountain wedding invitation designer like Pink Umbrella Designs will help you get the invites you fall in love with on the first try, no searching online and trying to guess colours, or papers or patterns. Plus because Shana works with couples all the time, she's an absolute expert in wording invitations as well. No more guessing who's name goes first or if you're missing a crucial piece of information.
So how does it work to have your wedding invitations done by a professional like Pink Umbrella? Meeting in person for a coffee and consultation is critical to the process (plus super fun because Shana is AWESOME!). During this consultation, you'll brainstorm ideas and share your vision so she can bring it to life. And no need to worry about jumping around from professional to professional to get everything done - Pink Umbrella Designs does it all. From save the dates and invites to seating charts and menus, having one wedding stationery design create your entire suite gives a cohesive look.

From start to finish, it takes about 6 weeks from signing the contract to receiving your pieces. Mark this on your timeline! If you want to send your Save The Dates out 6 months before your wedding, you'll want to book a consultation with Shana 8 months before your wedding. See why you need a wedding planning binder?