Are you a consignment shopper? I am a tried and true believer in great consignment. There are so many benefits! It's a double win for your wallet - not only can you save a ton, but you can make a little cash back when you consign. It's also a super green way to shop, giving all sorts of great clothes a second life in a new closet.
So it would make sense that wedding gowns would be a hot consignment item, right? Everthine Bridal thinks so - and we think so too! A gorgeous new bridal boutique in Inglewood, Pam, and Stephanie (who have been besties for years!) are two Calgary business women with an eye for incredible fashion and great deals (um, can I be besties with you as well, ladies??). They're the co-owners of Calgary's newest consignment wedding gown shop and on a rainy Tuesday a few weeks ago, Kristi of Kristi Sneddon Photographer and I popped in for a visit.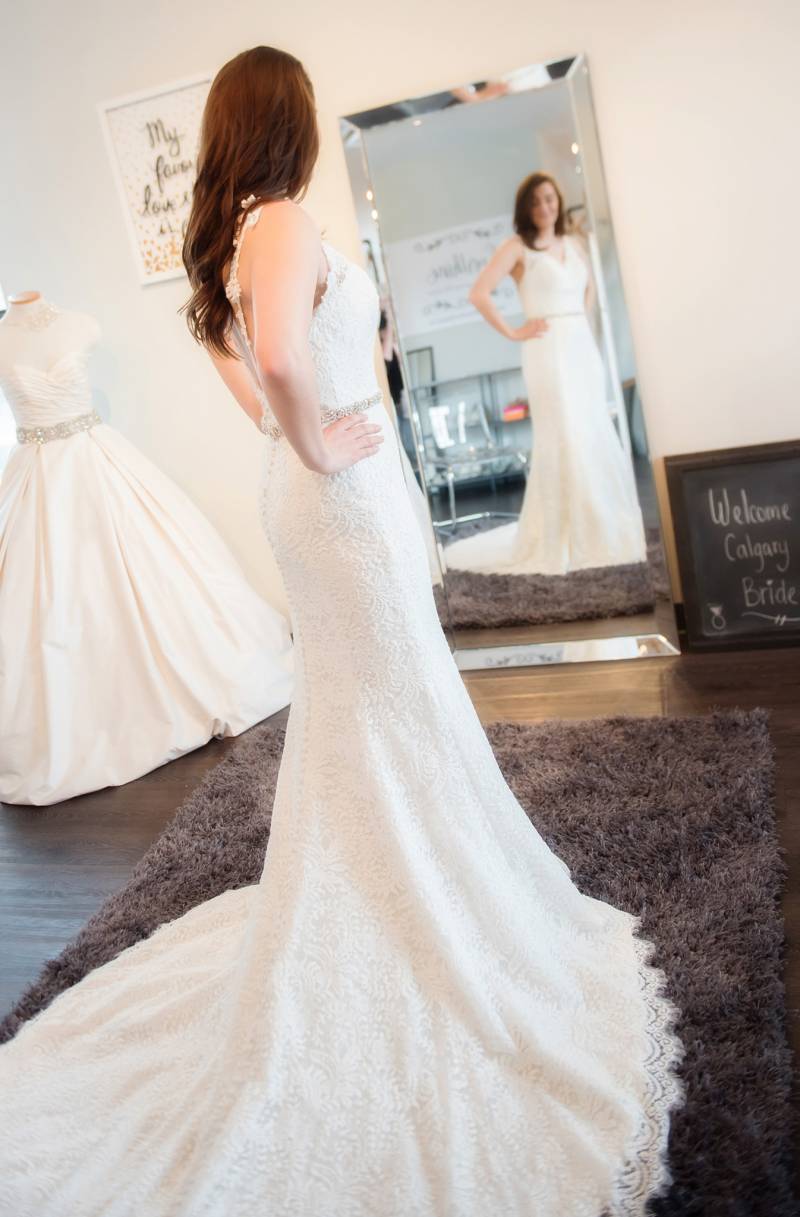 I walked into their beautiful salon, and I was first struck by the natural light which illuminated what seemed like hundreds of wedding gowns that lined the space. That's right - Pam and Stephanie already have racks and racks of gowns in-stock in every style, price point, and size. That's one of the best parts about consignment - you can see a broad range of wedding gowns in your size, and while the available dresses are curated, you'll often find a much broader selection of designers and prices.
A consignment wedding dress also has a major satisfaction factor to it - try on a gown, fall in love and take it home that day. No ordering, no wait times - it's your to hang in your spare closet and sneak looks at while your wedding day approaches.
All the gowns at Everthine Bridal are consignment, but that doesn't mean they've all been worn. Pam and Stephanie have curated a perfect mix of sample gowns from past seasons, brand new gowns (as many brides will purchase multiple gowns and choose only one to wear, bringing their unworn dresses in to consign) and dresses that have only been worn for a day. Any gowns that have been worn are fully dry cleaned and ready for another walk down the aisle.
The gowns at Everthine Bridal are in incredible condition, and they're all for sale at great prices. The discount price off retail ranges from 25% - 80% what you might pay for a brand new gown, with the average savings being about 45%, which would open up a ton of run in your budget for other line items that might need a little extra wiggle room!
Everthine Bridal is more than worth a visit, and it's by appointment only. So how can you get in on the fun? Their website takes online bookings (that's right - if you click right here, you can book within minutes!) making it super easy to pick a time to shop (did we mention that appointments are private? As in, you'll be the only bride in the shop :).
What if you've recently worn a gown that you're looking to consign? Their website has all the information on how to consign your wedding gown and it's as easy as sending them an email with some basic information to get the process started.