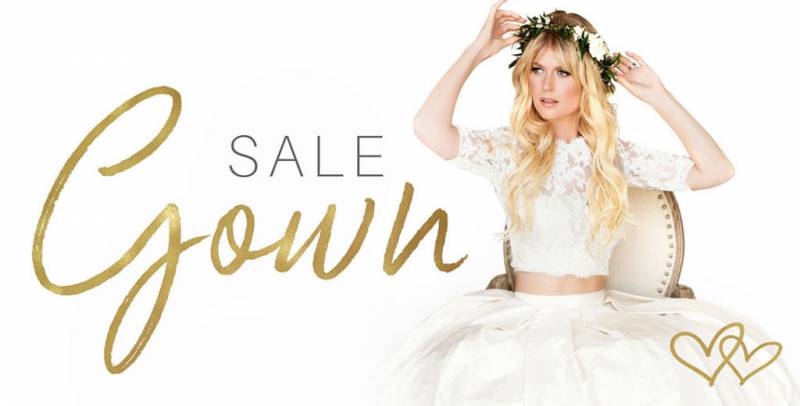 Bridal Expo will have hundreds of gowns on sale 40 - 70% off!
So tell me if you disagree - is wedding gown shopping your favourite part of planning your wedding so far? Maybe it's not - maybe you find the shops hard to manage, maybe you haven't had the time to hit them all up or maybe you haven't found the right dress at the right price. Running around from shop to shop isn't everyone's cup of tea, and shopping for a wedding gown when there's so much choice can be stressful - which takes a lot of fun out of it. But don't worry, Bridal Expo will absolutely solve all your wedding gown problems!
Some of the best bridal shops in Calgary purge their inventory of designer gowns and bring them down to the BMo Centre for one day of non-stop shopping. We're talking amazing prices on Calgary wedding gowns that you won't find anywhere else in the province - up to 70% off some of the best dresses in town!
This year, Bridal Expo is welcoming Ethos Bridal Group, Cameo & Cufflinks and Novia Mia Bridal to the show. These are some of Calgary's top wedding gown shops, who have incredible eye for fashion and shop the best bridal market weeks in the world to bring you dresses you won't find anywhere else.
So how can you get in on the Bridal Expo gown sale? Tickets to Bridal Expo are on sale now, with the advance ticket price of $20 each, making it the perfect time gather your #BrideTribe and get your tickets to the show. But if you want to shop the sale before any one else, you can snag a VIP ticket to Bridal Expo for $49, which gets you into the show an hour before the general public and lets you shop the gowns on sale before anyone else! VIP Tickets are limited, so pop over and get yours now!