We're thrilled to welcome our friends from Bridesmade.ca, Canada's bridesmaid dress shop, to the Confetti Blog today, celebrating all the ways you can make your bridesmaids smile!
We know you're so excited to have your best friends standing with you for your big day, and we want to make sure they're just as excited! Being a bridesmaid is an honour, but it's also a pretty important (and sometimes stressful) job. Here are our top tips for making sure your bridesmaids love their role.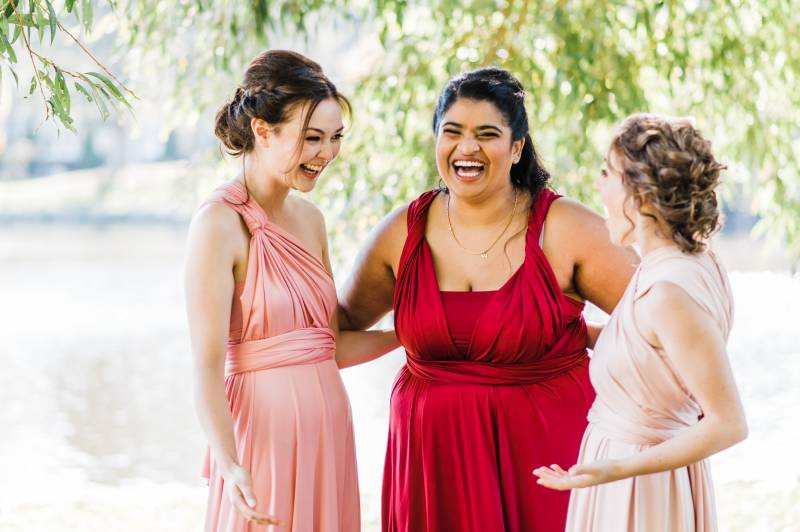 1. Take everyone's budget into account.
Depending on how diverse your bridal party is, you might have bridesmaids who are still in school, bridesmaids who are still working on finding a stable 9-to-5, or bridesmaids who already bought their first home and killing the whole "adulting" thing. All of this means that your girls could have very different budgets with regards to your wedding - how much they can spend on the bachelorette party, their dresses, and other common wedding expenses. Be mindful of this when picking dresses for them (and consider renting them instead!), and remind your Maid of Honour to keep everyone's budget in mind when organizing parties and other events for everyone.
2. Consider the seating arrangements carefully.
There is a fine balance between having a beautiful head table and annoying your wedding party to no end. Avoid awkward seating, obstructing someone's view with structures like poles, floral arrangements and tall candelabras, and always remember to consider your bridesmaids' significant others and where they will be sitting. If possible, seat them together. If not, make sure they are placed at a table where they will know a person or two, or at least will be able to make polite conversation with the other guests around. Or throw the whole seating chart out the window and let everyone (including your bridesmaids) pick their own seats!
3. Have a short and sweet ceremony.
While this might not be the first thing you think of when considering your bridesmaids, standing for an hour-long ceremony is not something your bridesmaids or guests want to be doing. It's already quite common to have a 15-20 minute ceremony which makes the wedding more enjoyable for everyone involved. If you really can't get around having a longer ceremony, consider how you could make it more comfortable. Reserve the front row for the wedding party to sit, and offer handheld fans (or kill two birds with one stone and print your wedding itinerary on a fan!) for a hot, outdoor summer wedding.
4. Let the insignificant details go.
There are some details that may or may not matter to you, but when it comes to your bridesmaids, the less micromanaging you do, the better. Having them all do their hair in an up-do is a reasonable request. Having them all have their nails done in the exact same shape and colour and nail art is a bit unnecessary. Let your bridesmaids have some input into things like their hair, makeup, nails and jewelry. You can guide their general look, but those details are not going to matter much in the big picture of your wedding.
5. Make the dress-shopping experience as painless as possible.
A common, if not the most common, complaint from bridesmaids is the bridesmaid dress. Thankfully, the days when bridesmaids had to buy matching $400 dresses that they hated are gone. Instead of taking the traditional route, use a service such as BridesMade to rent or buy size adjustable, customizable bridesmaid dresses (their new collection will even have pockets!), all for an extremely affordable price. Your girls no longer have to worry about alterations, gaining or losing weight before the wedding, comfort, looking frumpy, being stuck with a dress they don't want, budget, or anything else. You get to have beautiful and happy bridesmaids standing by your side.
6. Give them a big 'Thank You'.
Your bridesmaids are doing a lot for you on your big day, so don't forget to express your gratitude to them. This doesn't have to mean extravagant gifts - a simple, genuine "thank you for being here" and a hug is all they want.
Follow these tips and your bridesmaids are sure to love you even more than they already do! By thinking about their experience, you can minimize your own stress and avoid running into any issues, before or on your big day! Best of all, both you and your bridesmaids will be able to smile naturally.