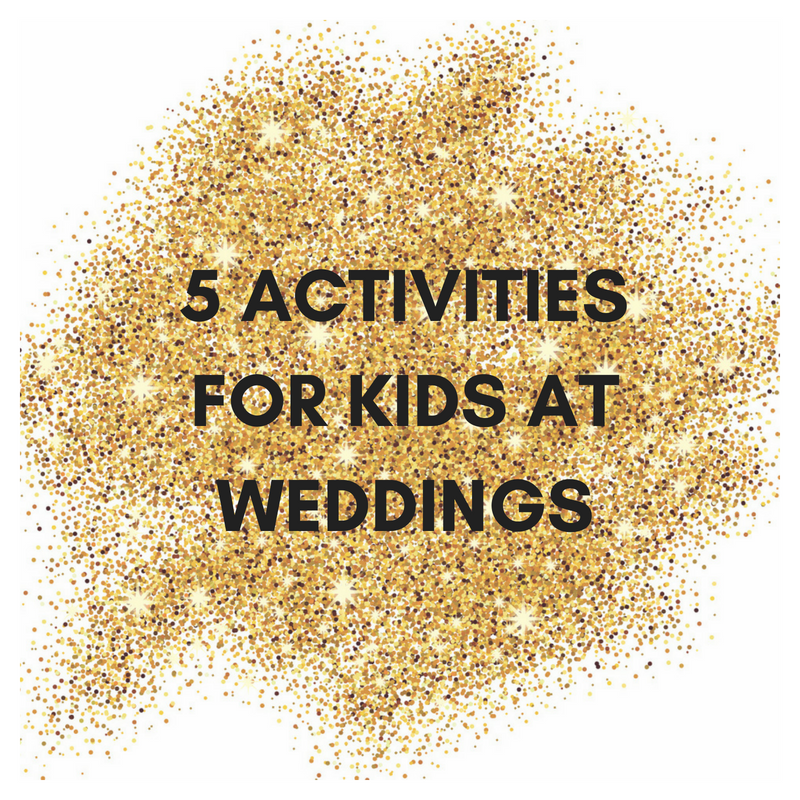 Kids at weddings - dare we say it, it's almost a divisive issue for some people! Whereas some couples fully welcome all the fun, energy and excitement that kids bring to any and every party, other couples to prefer to give their friends the night off from parenting, and host child-free affairs. So if you've decided that you're having kids at your wedding, the next question is always - what are you going to do with them? As much as we'd love to believe that children can entertain themselves for hours on end, that's not quite the case. Besides, kids want to be a part of the fun so creating opportunities for them to celebrate and feel included in the festivities is a great way to help them learn how it's appropriate to act at functions like weddings. Here are 5 fresh activities for kids at weddings!

Bubbles One of the best, least expensive ways to keep kids happy on a beautiful day is bubbles! Splurging on the slightly more expensive bubbly mix is worth it, as you'll get a little more bang for your buck with bubbles that last and don't pop right away. Kids might want their own small bubble wands to play with, or consider getting huge bubble wands that create giant bubbles for a little extra magic. Games you can play with bubbles include trying to let a bubble land on your hand without it popping, bubble tag (where if you get hit with a bubble, tag you're it!) and the classic game, pop as many bubbles as you can in a few seconds! Bubbles are a great activity for kids at weddings!

Dance Party If your venue has an extra space that isn't being used, setting up a kids specific dance party with kids music can be a great way to let them let loose and be goofy and silly with each other. A mini strobe light, and juice and finger food on hand, a kids specific dance party will let them burn off all their extra energy, making it one of the perfect activities for kids at weddings!

Giant Mural With Crayons After the ceremony or in your venue lobby, see if there is a space you can open up a roll of paper on the floor and ask the kids to draw a giant picture of your wedding ceremony (or their version of outer space, whatever suits their fancy!). Give them a chance to work together, pick colour palettes and be extra excited when they proudly show off their artistic creation. This is an activity for kids at weddings that you can save for years!

Scavenger Hunt Put together a list of items that you know will be at your wedding - things like a copy of the ceremony program, petals from the aisle and then add a few extra things to hide - a certain ribbon on a specific table, or a few jewels from your guest book table and let the kids run around trying to find all the treasured objects, because the best activities for kids at weddings hopefully keep them busy for more than a few minutes!

Direct a Movie For older kids, arm them with a someone's phone and ask them to film things when the dance floor opens up. Then task them with putting together all their video clips into a little movie, using still photos they can take as well. Not only does it give them a creative project they can have control of, you'll get a nice little video roundup as well!