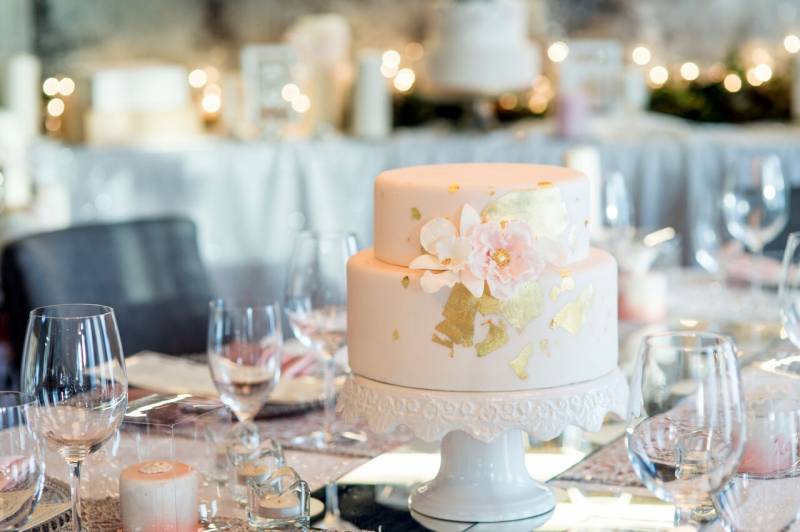 We're always curious to find out where trends start, and we've been spying some amazing trends for wedding cakes on Instagram over the last few years. According to Lynnette MacDonald of Swirl Cakes, the UK influences the rest of the world when it comes to wedding cake design. It can take two to three years for a cake trend to "cross the pond" and make its way to Calgary. Here are a few more cake trends Lynette says we'll be seeing in 2016 and into 2017.
Even more so than in previous years, cakes have become a personal reflection of a couple's personality. Vanilla is definitely outdated - so get fancy with your flavours! Passionfruit, cheesecake, floral-infused or even your favourite cocktail like rum and cake, there's as much fun to be had under the icing as there is on top of it. Reflect both of your personalities with a double-sided cake, and create designs that reflect the passions and hobbies of both of you on your wedding day.
Watercolour was the "it" design of 2015, and this style is only picking up strength for 2016. This summer, expect more intricate artistic design. Organically inspired "icing-scapes" with floral and greenery are perfect for wedding embracing the natural beauty that surrounds us. Abstract and transcendent paintings created by cake dyes and gels are perfect for modern and contemporary couples who embrace sleek and stylish trends.
Florals and cakes have always made a gorgeous pairing, and fresh flowers on cakes are big for 2016. Simple cakes adorned with floral garland and more extravagant textured cake with floral accents, crisp blooms in rich hues are a statement that embraces natural beauty. If you're considering fresh flowers for your wedding cake, make sure your cake artist uses organic, pesticide-free flowers, as cross contamination between plants treated with pesticides can cause problems.
The metallic trend is carrying from decor and stationery and into cakes, with brides loving iridescent gold, copper, bronze and rose gold. While sequins are still popular for cakes, in 2016 expect to see them more as accent decor than covering a full tier of your cake. "Naked cakes" will also be popular at whimsical, intimate weddings, paired with fresh berries and lemons.